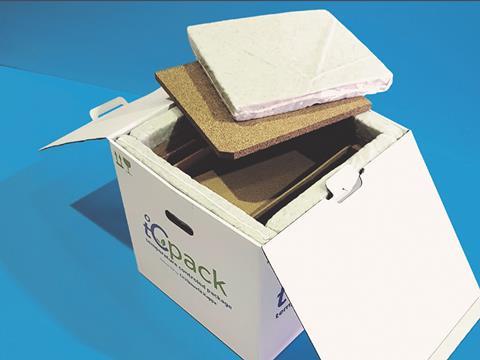 Smurfit Kappa has developed TCPack, a "100% sustainable and reusable" solution that allows transport at controlled temperatures.
The new product, created in collaboration with Cork Bio Solutions, includes an insulating layer which is made of cellulose, rather than plastic. These cork plates act as the 'engine' of the box that absorbs, holds and releases the cold if the temperature inside the box requires it.
Regarding the challenge presented by the R&D process behind TCPack, Smurfit Kappa said: "Transporting refrigerated products with high added value and monitoring the temperature throughout the entire supply chain today remains very difficult for many companies. If the product arrives refrigerated, this is not a guarantee that it has never exceeded its temperature range throughout the entire cold chain. This can have serious, harmful consequences."
Thanks to our guarantee on proper refrigerated transport with sustainable packaging, we minimize the customer's economic and social risks while reducing their impact on the planet," the company continued.
Above and beyond logistical challenges, the partnership argues that refrigerated transport has traditionally had a negative impact in terms of sustainability. In what Smurfit Kappa describes as a "double environmental benefit", TCPack reportedly does away with the need for refrigerated vehicles and insulating packaging. And, as a flagship feature, the company guarantees refrigerated transport from 2°C to 8°C for 96 hours – a fact which was reportedly confirmed by a study carried out by the Belgian Institute of Packaging.
The companies expect this product to see most of its use in the pharmaceutical and food industries but add that many other sectors also fall within the scope of application.
Looking ahead, the partnership expects to expand this product by exploring temperature ranges other than between 2° to 8°C and make it applicable to a greater number of different content volumes.