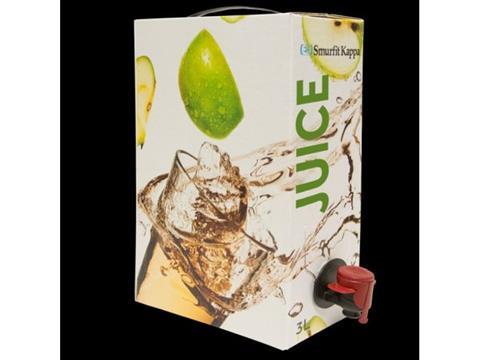 Smurfit Kappa has expanded its range of packaging solutions for the fresh apple juice market.
Smurfit Kappa Bag-in Box® developed the Thermo Bag to meet the specifications of hot filling which is a commonly used processing method in the drinks industry. During hot filling, the product is pressed, filtered, pasteurised, heated and filled at a high temperature to facilitate sterilisation and then immediately cooled for preservation and taste. This method has the advantage of extending shelf life, removing any harmful microorganisms, reducing costs and simplifying the process.
Hot filling is widely used in the production of fresh (not from concentrate) apple juice which has grown increasingly popular due to its freshness and health benefits.
Smurfit Kappa's innovative new Thermo Bag is a barrier bag made from special coextruded PE film (MDPE for thermo-resistance and LLDPE for flexibility) and EVOH for oxygen barrier.
"Thanks to their low carbon footprint and extended shelf life, our Bag-in-Box® products offer a more sustainable choice of packaging for many industries and Smurfit Kappa relentlessly continues to develop higher performance materials for the drinks market," said Thierry Minaud, CEO of Smurfit Kappa Bag-in-Box®.
"The Thermo Bag is bringing competitive advantage to producers and enhanced quality to consumers."
More info: