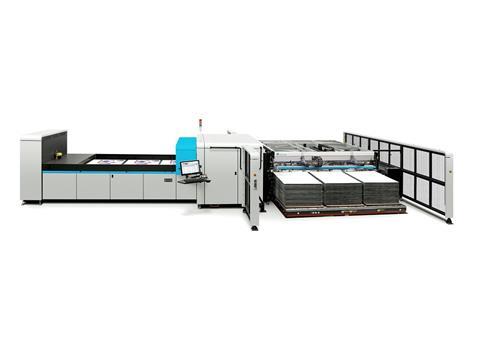 Smurfit Kappa is continuing to use digital print in the corrugated packaging industry. The packaging leader has ramped up its capabilities by installing eight HP Scitex corrugated presses across its European sites.
The new printers facilitate brilliant graphics which make display and promotional packaging come alive. They are also capable of short runs to meet the increasing demand for reduced turnaround times from brands.
Smurfit Kappa has installed Scitex HDR technology corrugated presses – the HP Scitex 11000, HP Scitex 15500, and HP Scitex 17000 – in sites in Belgium, Denmark, France, Portugal, Poland and the UK with additional installations scheduled for sites in the UK and the Netherlands.
"There is an industry-wide consensus that corrugated is ready for digital. We are using HP digital solutions in many of our plants to provide pioneering, market-leading solutions for our customers," said Edwin Goffard, Chief Operating Officer of Corrugated and Converting at Smurfit Kappa Group Europe.
"Our strong relationship with HP enables us to stay ahead of any printing trends and fits in with our sustainability goals."
Cristóbal Macedo, HP General Manager, PageWide Industrial Business Europe, Middle-East & Africa added: "We're thrilled to be assisting Smurfit Kappa with their printing requirements after a wonderful three years in partnership.
"The HP Scitex HDR press offers customers both speed and quality, ensuring that high standards do not suffer for the sake of productivity."
Digital printing has strengthened the marketing capabilities of packaging and displays. The ability to stand out on the shelf is enhanced by the graphic flexibility and quality of the new HP printers. Smurfit Kappa has been using digital print successfully in shelf-ready packaging which is delivered through its ShelfSmart service.
The installation of the Scitex HDR printers follows on from Smurfit Kappa installing the first commercial HP single pass press in Europe in its Interwell plant in Austria in April.