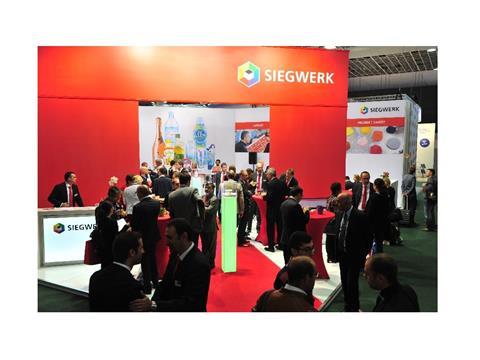 Siegwerk, one of the leading global providers of printing inks for packaging applications and labels, will exhibit at this year's LABELEXPO EUROPE 2017, the world's largest event for the label and package printing industry taking place in Brussels, Belgium, from September 25 to 28, 2017.
By providing a combination of best-in-class ink performance, high product safety and continuous support and guidance, Siegwerk is making every effort to help its customers address upcoming trends and to meet their specific needs with cutting-edge ink solutions. Visitors to the trade show can get in touch with Siegwerk's experts at Booth A17 in Hall 6 to learn more about its inks and services or to discuss label and package printing innovations and trends.
"It's always our goal to provide customers with the best and most efficient solution and support for their individual situation. We are always 'Focused on your needs' and are exactly analyzing the requirements and needs every single customer has," explains Michael Mueller-Samson, Head of BU Narrow Web EMEA at Siegwerk the motto for the show. "That's why platforms like LABELEXPO are ideal touchpoints for us to share ideas and discuss newest challenges and requirements with our customers and other industry experts." Siegwerk attaches great importance to open dialog with its customers. Understanding their needs is key to the company identifying trending topics and open issues that enable it to channel its R&D activities into the market segments of the future.
Different customers have different needs
Siegwerk knows about the differences between customers and therefore always aims to provide customised solutions meeting the specific circumstances and requirements to enable the customer's achievement of greater levels of efficiency and safety. The company has already launched several innovative solutions that were developed to help customers keep track of future-focused industry trends. It offers for example a complete range of migration optimized inks, gloss and matte varnishes, as well as metallic inks for all printing processes that are BPA-free and meet the needs of food and other sensitive packaging applications. The company's migration optimized inks specifically for UV printing rank among the best systems on the market today.
Best-in-class ink performance
"Our newest developed ink series for UV flexo printing is called Sicura Nutriflex PRO. It offers highly pigmented colours that are HD-certified while being suitable for all food and pharma-related applications," explains Rolf Montag, Product Manager BU Narrow Web at Siegwerk. "Furthermore, our UV offset series Sicura Nutriboard 2 for paper and selected films as well as Sicura Nutriplast 2 for plastics are both excellent ink solutions for heavy-duty applications." Siegwerk will also showcase the latest developments of metallic inks and different OPVs of its Sicura Nutriflex LEDTec range, the first-ever migration optimised LED UV flexo series for food and pharma packaging launched on the market.
"We also develop high quality inkjet inks for labels and are working on some for packaging applications too," adds Rolf Montag. With Sicura Nutri Jet UV-Inkjet, Siegwerk provides a low migration inkjet ink series for food and pharma packaging that works with different inkjet printing head technologies and delivers the same CMYK color positioning as flexo inks. With Sicura Jet low-odor the company also adds the only non-CMR UV-inkjet inks that are designed for printing labels for household, hygiene and industrial packaging to its offering.
High product safety
With the latest launch of the low migration UV offset ink range Sicura Litho NutriEco, Siegwerk once again demonstrated its pioneering role in terms of product safety and sustainability. This innovative UV printing ink system was shortly awarded Gold status of the "Cradle to Cradle Material Health Certification" by the Environmental Protection Encouragement Agency (EPEA), which makes Siegwerk the first ink manufacturer offering a low migration UV ink range complying with the highest international environmental research-related product standards. When formulating its inks, Siegwerk is not only looking for optimum performance based on customers' processes but also to ensure that inks are safe to use for desired packaging applications. As a global leader in delivering product safety, Siegwerk supports its customers when safeguards against regulatory risks or product contamination are required.
Excellent services
Next to best-in-class ink performance and a high level of product safety the company also offers customers manifold services related to guidance and support, for example in terms of process optimisation, complexity reduction and efficiency gains for printing shops. With its On-Site Consulting offering Siegwerk expands its services for customers to the improvement of the individual performance at the customers' sites. For narrow web and sheetfed printing the company's team focusses on ink room management as well as the conception and installation of dispensers, all with the goal to support customers in creating an optimal ink preparation including all necessary tools. Siegwerk's experts analyse potential new investments and define with the individual customer which requirements a new dispenser would need to fulfill and identify necessary steps for the implementation or optimisation of an ink room. A variety of trainings for example on colorimetry or ink organisation complement the services offered. The trainings could be conducted at Siegwerk or at the customer's venue however desired.
In line with its "Focused on your needs" motto, Siegwerk's showcase at LABELEXPO EUROPE 2017 will be a touchpoint for discussions and conversations about current label and packaging print requirements and solutions as well as future trends. LABELEXPO visitors can obtain more information about Siegwerk's range of products and services at Booth A17 in Hall 6 from September 25 to 28, 2017.
More info: