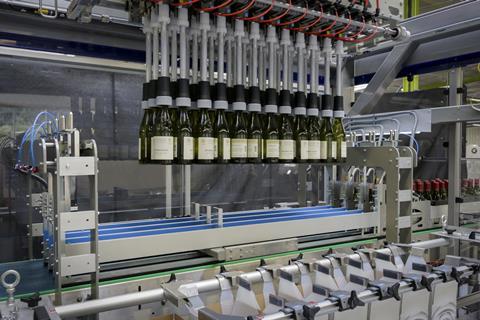 The improved agility and ease of operations of the solution manifest themselves in a number of features: for example, a high level of automatic adjustments and lighter redesigned parts enable ergonomic, reliable, repeatable and tool-less changeovers completed in less than ten minutes. Didier Saussereau, Packing Product Manager at Sidel, further explains, "Cermex FlexiPack handles a wide variety of bottles' diameters and heights, always paying utmost attention to product integrity. Different bottle necks or cap designs do not represent any issue, as the end grippers can be easily and quickly changed. All movements are brushless to smooth the product flow at all times as well as allow fully automatic adjustments for changeovers." What is more, a single servo-driven auto-adjustable gripping head ensures a frictionless and precise batch gripping and transfer of 24 to 48 bottles simultaneously.
"For greater accessibility and ease-of-use, the solution comes with the latest version of our user-friendly HMI (Human Machine Interface), helping operators with statistics, diagnostic and maintenance procedures, all available through a tablet-based navigation," Didier highlights. The HMI also guides the operator step-by-step for any new format creation while automatically generating the respective changeover settings, therefore increasing autonomy and maximising uptime.
The innovative flow and speed management at every step of the packing process protects the glass bottle and its label. Noise reduction is also achieved by limiting the pressure and shock the bottles are subjected to at every step of production. No friction is a rule when the bottles are positively distributed in either three or four lanes via the DiviArm divider.
In addition, FlexiPack features a unique batch collation ensured by a succession of four conveying zones, each one operating at a different speed: the batch is ultimately created at the fourth conveying section by an accompanying end-stop bar, which smoothly transfers the bottles to the picking station. This, too, helps minimise the shocks, thus guaranteeing maximum product protection.
Sidel's new auto-adjustable Pick & Place case packer also saves energy. It does that by employing lighter materials for the gripping head, thus reducing its weight and, as a consequence, the energy consumed by the manipulator. Furthermore, Cermex FlexiPack significantly limits the usage of compressed air thanks to the replacement of all pneumatic actuators with electrical ones. Projected for a production run of five years, the generated savings could reach up to 10,000 kWh, which is equal to 3.5 t of CO2.
For greater performance, and as an alternative to DiviArm, Sidel's innovative contactless conveying and accumulation solution, Gebo AQFlex®, can feed the appropriate number of channels of Cermex FlexiPack to get a more compact layout and possibly add buffering time to the line.