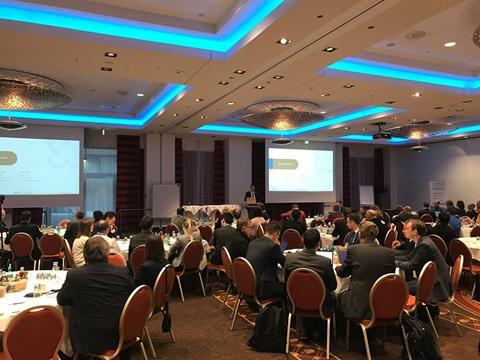 A leading full-service global consulting firm specializing in serialization and traceability, as well as supply chain strategy and operational transformation programs – and Medicines for Europe, an organization serving as the voice of Europe's generic, biosimilar and value-added medicines industries, will co-host a Pharma CMO Summit on December 4-5, 2017 at the Mövenpick Hotel City Centre in Amsterdam. The gathering offers an opportunity for pharmaceutical industry partners to finalize strategies for initial serialization compliance and optimized post-implementation operations.
A main objective of the CMO Summit is providing flexible strategies and solutions for achieving practical paths to compliance. Industry experts, serialization veterans and leading solution providers will provide perspectives on efficient, cost-effective implementation strategies, and case study presentations will help educate trading partners on likely implementation challenges and opportunities. Interactive activities will showcase the value beyond compliance that digitization brings to packaging operations.
Among the event's keynote topics will be CMO Onboarding and IT Connectivity, an issue affecting a broad spectrum of pharma supply chain partners. Senior-level executives from a variety of prominent pharma manufacturers and vendors will present relevant presentations and case studies, and experts from leading serialization standards organizations, including GS1 and Open-SCS, will discuss industry-wide efforts toward supply chain inter-operability.
Immediately following the Pharma CMO Summit, Supply Chain Wizard will host a three-day Serialization Training & Certification Program December 6-8, also at the Mövenpick Hotel City Centre. The comprehensive program is ideal for pharmaceutical industry professionals seeking in-depth insight into the methodologies and tools required to implement an effective customized serialization program. The program is designed for pharmaceutical industry professionals focused on serialization within their organizations, and for those looking to move beyond compliance to recognize additional ROI.
The Amsterdam Pharma CMO Summit will bring together manufacturers, CMOs, CPOs, 3PLs and solution providers for education and interactive activities centered on serialization compliance, serialized operations and value beyond compliance. It is the 9th event in a series of "CMO focused" summits initiated by Supply Chain Wizard, most recently in Lisbon.
"Like its successful predecessors, the Amsterdam Pharma CMO Summit is a tremendous opportunity for collaboration among a broad range of supply chain partners," said Evren Ozkaya, CEO of Supply Chain Wizard. "We see simply meeting regulatory requirements as a minimum baseline, with this summit offering opportunities for partnerships, collaborations and improved business practices that deliver beyond-compliance value by utilizing the troves of data generated and stored during the track & trace process."
More info: