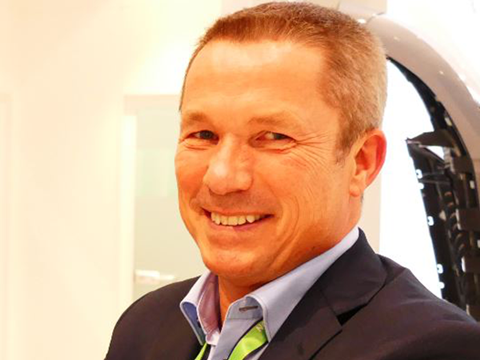 Styrenics Circular Solutions (SCS) is value chain initiative whose mission is to transform the styrenics industry to achieve true circularity, and educate the wider world on the environmental benefits of these materials. Victoria Hattersley spoke to secretary general Jens Kathmann to find out more.
Let's not mince our words: we're at a crucial point at which there is a real opportunity for the plastics industry to move from linear to circular. But for the industry to play its part in the circular economy, all members of the value chain must work together to ensure the products they produce are not only designed for recyclability, but that the collection, sorting and recycling infrastructure is in place.
This is true for all plastics. But the ones we tend to hear – and indeed write – the most about are polymers such as PET, or PP. For Styrenics Circular Solutions, this is an imbalance that must be addressed. Their core message is that polystyrene (PS) has unique benefits– both environmentally and practically.
Established in 2018, SCS's members represent the entire supply chain. They include COEXPAN, Exiba, ELIX Polymers, Greiner Packaging, INEOS Styrolution, Intraplás, Repsol, Tomra, Total, Trinseo and Versalis (ENI), all of whom have committed to the three core goals of: realizing the potential of styrenics for circularity; developing and scaling up innovative recycling technologies; and creating a market pull away from incineration towards these recycling technologies.
Why styrenics?
This is the key question. SCS is very clear that these materials have something to offer over and above what can be gained from other widely used polymers. According to the organization, no other mass-produced polymer can be broken down so easily into its original monomer. This means PS-based products can have multiple life cycles and can be used over and over again for a number of high-quality applications – including, crucially, food packaging. It can help protect food and thus reduce waste, and its light weight helps to minimize emissions during transport.
"Some parts of the market base their opinion on an outdated concept of PS, but what we have is a material with unique circularity capability that is excellently sortable," says Jens Kathmann.
A big challenge for SCS – and the key to unlocking the circular potential of PS – will be to achieve food contact standard recyclate given that a huge percentage of consumer packaging waste is, of course, from food and drinks.
"The need to achieve food contact involves the entire value chain and comes with consumer awareness and behavioural change as well. We are working towards achieving this according to EU standards and we are already making significant progress."
Breakthrough recycling technology
Achieving this 'holy grail' of food contact recyclate feeds into another of the goals mentioned above – developing innovative recycling technologies that can produce the kind of high-quality recyclate necessary on the scales demanded by brand owners and retailers. SCS is focusing on three main areas: mechanical recycling, dissolution and depolymerization.
"This is one of the most ambitious and sensitive subjects," says Jens Kathmann. "We need absolute quality assurance and to achieve the kinds of scales necessary you can't rely on a single recycling technology; you need a range of different possibilities. It also comes down to sorting: we have to make sure we sort only food contact materials out of the waste streams which means you need high-quality sorting and collection specifically for PS – something our member company Tomra, for example, can provide to an extremely high level of accuracy. But clearly this is not a short-term project and we are currently undergoing intense trials for all three technologies."
When it comes to mechanical recycling – the most widely established of the three to date – SCS is aiming to achieve closed loop food contact mechanical recycling for applications going beyond bottles and to complete a crucial milestone to this end by autumn of this year. Dissolution – which works by selectively dissolving one target polymer while others are unaffected – is also a fairly well-proven technology and SCS member company Total has completed successful semi-industrial trials on this with third parties.
The third technology, depolymerization – a form of chemical recycling which breaks the plastic down into its original, 'virgin-like' monomer state – is perhaps the one that holds the greatest potential for the future and in which we are currently seeing the most exciting technological developments. PS is particularly suited to this, Jens Kathmann tells us, with its 'ceiling temperature' of around 350C.
"Depolymerization is the only type of chemical recycling that goes back only one process step and converts post-consumer PS directly into its constituent monomer styrene that will be used for the production of new styrenic polymers. PS' inherent properties makes it the easiest to be recycled into its monomer achieving a high yield. After easy purification, the resulting recycled styrene monomer is of equivalent quality to the original monomer and thus enables the re-polymerisation into recycled PS for food grade standard. Our industry is aiming to achieve first depolymerization of PS for food contact applications on the market by 2021. SCS and its member companies are scaling up the implementation of our recycling technologies in line with the EU plastics strategy."
We will be looking into this technology in more detail in the coming months, as it's a big subject and one that deserves closer scrutiny. But one thing to emphasize: it is not expected that it will 'replace' the more established mechanical recycling in the near future; rather, the technologies can be used in parallel.
Addressing the imbalance
Despite the above, it seems the sustainability benefits of PS are not currently as widely recognized as those for, say, PET. What needs to be done to change this? "It will mean, among other things, increasing the visibility of depolymerization and establishing a closed loop with either mixed plastic collection or single collection like we have with PET, where we have seen a really effective system has been established with bottle-to-bottle recycling. We don't have this yet, and it's what we are aiming for."
He argues for the need for more EU incentives favouring polymers that "can really deliver on food contact closed loop secondary life value propositions. This requires a lot of standardization and harmonization for a supportive regulatory environment. We believe it is coming, we are all working hard to jointly achieve that goal."
And so, finally: dialogue. None of this can be possible if SCS is not actively finding ways to constructively engage with government, stakeholders and those NGOs – such as the Ellen MacArthur Foundation – that are not yet convinced that styrenics are scalable enough to warrant a key role in the circular economy alongside other materials.
"There is dialogue but currently it's fragmented," says Jens. "Therefore, in the second half of this year and into 2021 it is vital that we seek out this dialogue and start building those bridges. After all, we all have the same goal: we all want sustainability and a somewhat safe and pollution-free life on this planet for the next generations. So we have a lot of common ground and we just have to work together."
As a publication we of course remain neutral on this subject, but we are committed to reporting on any material that can prove its worth in the circular economy – we will therefore be following the activities and progress of SCS with interest in the coming months.