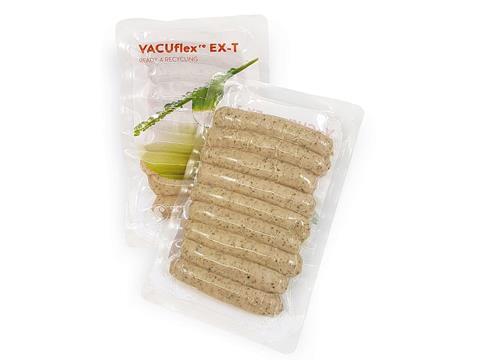 The Schur Flexibles Group is expanding its product portfolio to prioritise sustainability and innovation. Recently, the group presented a number of products from its pioneering "rethink" sustainability strategy.
Implementation of this strategy is based on Schur Flexibles' newly developed 5R programme comprised of the five pillars of sustainability: Responsibility, Recycling, Replace, Reduction and Renewal
The new packaging films were introduced at the IFFA 2019 Trade Fair and are specially adapted to the stringent requirements of the food packaging sector where plastic is still indispensable to ensure the highest levels of protection for food safety and waste reduction. The goal for the development was to offer an extended range of sustainable solutions for all applications without sacrificing food protection, hygiene and handling.
VACUflex(re) EX-T – recyclable and efficient
One of the most innovative packaging films developed by Schur Flexibles is the VACUflex(re) EX-T. This recyclable thermoforming film made of polyolefins combines excellent machinability with extremely high product protection and is equipped with an EVOH barrier. The unique material is available in thicknesses from 80 to 175 μm. It features a high oxygen barrier and offers outstanding machinability on all thermoforming machines, enabling a high production rate and high output.
When used in combination with films such as FlexTop(re), VACUflex(re) EX-T creates a packaging solution that is ideally suited to fulfil the demands of recyclability in the circular economy. The transparent, highly recyclable high-gloss film can be printed in up to ten colours and thus ensures attractive product presentation at the point of sale. It is suitable for a variety of products such as fresh and processed meat, fish, cheese, convenience foods and more.