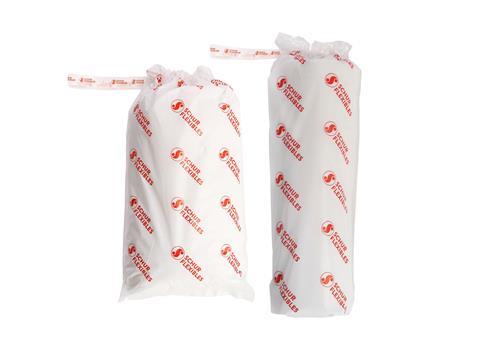 Whether it's FoodTray, EcoString bag, CoffeeGuard(re) or VACUflex(re) EX-T, Schur Flexibles is introducing innovative, recyclable packaging solutions at the Nuremberg trade show; in addition, it is looking to position itself as the 'industry leader for digital printing'.
The Schur Flexibles Group will be presenting its product portfolio at FachPack 2019 in Nuremberg between 24th and 26th September. The company will showcase four innovations at the show: the recyclable thermoformable film VACUflex(re) EX-T for meat, processed meat, cheese and fish products; the FoodTray – a new tray concept predominantly made from fibre – for the packaging of fresh foods; the mono PE EcoString bag for cosmetic and hygienic/toiletry items; and the CoffeeGuard(re) aluminium-free flow wrap for coffee and dry foods.
Response to the new packaging law
These innovations take into account the new packaging law, which entails extensive consequences for the industry. Constantly striving to deliver innovative answers to the question of compatibility of packaging and resource-protection, the Schur Flexibles Group has already been developing its extensive range of sustainable solutions for years, which it says fulfil all the most up-to-date requirements and cover the most diverse applications.
In this respect, it is particularly worth emphasising that, in order to strengthen its commitment to reducing food waste, Schur Flexibles is part of the SAVE FOOD initiative.
However, Schur Flexibles's commitment goes much further: following the guidelines of 'rethink', the company has produced a ground-breaking sustainability strategy, based on the 5 pillars of Responsibility, Recycling, Replace, Reduction and Renewal. The particular focus involves downgauging and recyclability of packaging solutions. Hence Schur Flexibles is also a member of CEFLEX.
VACUflex(re) EX-T – recyclable, high-performance thermoformable film
Schur Flexibles has already developed a wide portfolio of recyclable materials. A particularly high-performance product from this range is VACUflex(re) EX-T. This flexible, high-barrier thermoform film is polyolefin-based and offers e.g. combined with FlexGuard(re) a recyclable packaging solution which it says can be disposed of into existing recycling streams.
On top of this, the company says the high-performance VACUflex(re) EX-T, available in thicknesses between 80 and 300 µm, offers excellent processability on FFS machines, as well as its highest product protection thanks to an EVOH barrier. The highly transparent film with a PE sealing layer is printable in up to ten colours and has a high gloss finish for appeal at the point of sale. Furthermore, VACUflex(re) is suitable for pasteurisation up to 85°C/2h and can be used for a variety of standard applications, for example for the packaging of fresh meat, sausages, processed meat, poultry, cheese or convenience products.
FoodTray: the system solution for sustainable food packaging
Another consumer-friendly (for both look and feel) packaging system for fresh food is the FoodTray. It emerged through a successful cooperation between system partners ROBA (owners of the patent), GEA and Schur Flexibles. The tray concept has been designed to combine corrugated board with film to create a packaging system for fresh food which is pleasing to the eye and touch. In comparison to solid board, Schur says it offers greater stability with less material usage and, more importantly, is easily recyclable.
The FoodTrays are printable on their entire surface. The corrugated board can be printed in up to six different colours, and the film lid in up to eleven, including lacquer finish. Various printing technologies also allow differentiated product descriptions for small batches. The height of the packaging ranges from 20 to 60 mm, and up to 20 mm for skin applications; customised sizes are also possible.
In addition, Schur says the food FoodTray solution 'perfectly unites' the requirements for product description, consumer friendly look and feel, food safety and efficient manufacturing processes with the requirements for sustainability and recyclability. Thanks to state-of-the-art production technology and to the selection of a special raw material, Schur Flexibles was able to considerably reduce the amount of plastics used. The inner film is thermoformed directly into the tray and is only lightly sealed to the corrugated board at specific points. The material components can therefore easily be separated by the consumer after use, thereby ensuring that the corrugated board – made either from renewable raw materials or recycled materials – can be returned to the paper/cardboard circuit, and the film classified as recyclable to the synthetic materials.
EcoString bag: mono PE solution for hygiene and toiletries
The EcoString bag is another outstanding solution that offers simple recycling. With this product, Schur Flexibles is presenting the next generation of drawstring bags at FachPack: a 100 per cent recyclable or biodegradable drawstring bag for hygiene or cosmetic articles such as cotton buds, pads and balls without viscose string. The bag, as well as the string (integrated in the packaging), are made of mono PE film. The separation of the previous mixed materials is therefore no longer necessary and the whole packaging can be recycled as one, EU-wide. Complaints about cellulose strings getting tangled up in recycling sites will also become a thing of the past.
In addition, the PE string is made from production residues. Schur Flexibles has achieved one of its sustainability goals with standard bags: zero-waste production. A further advantage is provided by the optimised logistics. The in-house solution requires no delivery of additional materials, which reduces the carbon footprint. Furthermore, in the future, the bags will be produced from 100 per cent renewable raw materials.
EcoString bags can be produced in various forms and can be adapted to the specific shapes of the products. They offer a thickness from 70 up to 100 µm and a high mechanical resistance. Additionally, the pre-made PE bags run smoothly on existing packaging machines and allow for easy consignment. Schur says the packaging can also be printed and finished in ten different colours with matt or glossy lacquer, with efficiency and high quality and the synthetic string can also be printed.
CoffeeGuard(re): recyclable, aluminium-free flow wrap innovation for coffee
Besides toiletries and hygiene, Schur Flexibles says it is also 'revolutionising' the coffee mark, with CoffeeGuard(re). The company is presenting a recyclable wrap packaging without aluminium. This solution, which was developed as a PP and PO variant, has an ultra-high barrier and therefore can safely pack ground coffee, coffee beans and other dry products. In addition, the weight of the packaging will be considerably reduced, and, thanks to its recyclability, the packaging will allow the return of the raw materials into the plastic circular economy.
The thickness of the wrap ranges from 64 to 94 µm, with various options such as a PE sealing layer or peelable sealing. Coffeeguard(re) allows for simple handling and runs optimally on existing flow wrap lines. For the perfect display at the point of sale, a range of different finishes and tactile lacquers are offered, from matt and glossy to PaperTouch, SoftTouch or SandTouch. Printing is possible in up to ten different colours.
Digital printing
At FachPack, Schur Flexibles is not only looking to position itself as a pioneer in innovative, sustainable and recyclable packaging solutions, but also as the leading industry supplier of digital printing technology. With the experts in digital printing UNI Packaging and Scandiflex – which recently became part of Schur Flexibles – and through collaboration with HP Indigo, the group completed its performance range in the field of printing expertise. It offers digital printing in up to seven colours and various finishing options for gravure printing on film up to 736 mm in width.
Schur Flexibles Group will be at FachPack 2019 in Nuremberg, in Hall 7, Stand 7-332.