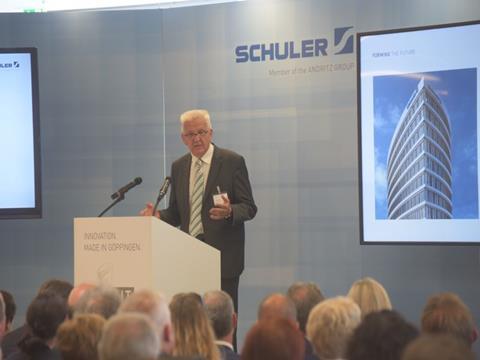 The twelve-story engineering and technology centre will provide 750 workspaces with cutting-edge technology, outstanding communication possibilities, and a company restaurant for Schuler employees.
Minister President Kretschmann: prime example of a hidden champion
At the opening ceremony, Baden-Württemberg's Minister President Winfried Kretschmann stated: "From the exceptional quality of their vocational training, to their commitment to inspiring children and teenagers in the region to take an interest in science and technology, to their activities in the field of corporate social responsibility – Schuler has always been an innovator with an eye to the future. This is also borne out by the new Group headquarters, the largest investment in the company's long history. It's a building that provides plenty of space to work and plenty of freedom to think. And these two aspects are what make Schuler a prime example of a hidden champion from Baden-Württemberg."
CEO Klebert: driving future topics
Schuler's CEO Stefan Klebert explained: "As the market leader in metal forming, we need excellent employees. And with our new S. I. T., we can offer outstanding working conditions for such good people. The fact that our innovation center was built here in Göppingen is also further proof of the company's clear commitment to its roots and to Germany as a location for premium technology. From our base in the Schuler Innovation Tower, we will continue to drive the future topics of plant and machine engineering, the digitization of products and company processes, and the field of electromobility."
BDI President Kempf: mid-size companies must remain backbone
At the ceremony in Göppingen, the President of the Federation of German Industries (BDI), Dieter Kempf, demanded more political backing for small and mid-sized companies: "The fact that Germany is one of the few industrialized nations not to give tax breaks for research and not to provide its companies with a competitive infrastructure is illustrated by numerous international comparisons. Although Germany is ranked the fourth most innovative industrialized nation, it still lags a long way behind the leader Switzerland. And when it comes to digitization, we only just manage 17th place. In other words, politicians need to do their homework so that our small and mid-sized industrial companies can remain the backbone of a strong German economy."
Mayor Till: Göppingen is a reliable partner
Göppingen's mayor Guido Till called Schuler a renowned ambassador and first-class figurehead for Göppingen as a business location. He claimed that the city offered everything companies needed for a successful investment. "We are a reliable partner for our businesses," declared Till, also with reference to the city's trade tax rate, which has been unchanged over the last 15 years. "As the mayor of Göppingen, the fact that our ancient city of the Hohenstaufen dynasty is home to such a global player with operations in 40 different countries fills me with pride."
S. I. T. located at "Schuler-Platz 1"
The city of Göppingen's council and administration had previously decided that the future official address for the Schuler Innovation Tower should be "Schuler-Platz 1" (1, Schuler Square), in order to underline the special bond between city and company. The citizens of Göppingen can experience the Schuler Innovation Tower up close this weekend by registering for a guided tour. The tour will also enable them to enjoy the view from the roof terrace of the 54-meter-tall building. Schuler will also be offering special tours for its own employees on Monday and Tuesday.
Work on the interior fittings of Göppingen's new landmark building, as well as calibration and test runs for its supply systems and amenities (such as the air conditioning system), will be completed in late summer and fall. After that, staff can begin moving into the Group's new headquarters. The dismantling of Schuler's old Engineering Building and the creation of new outdoor facilities is due to be completed in 2018.
More info: