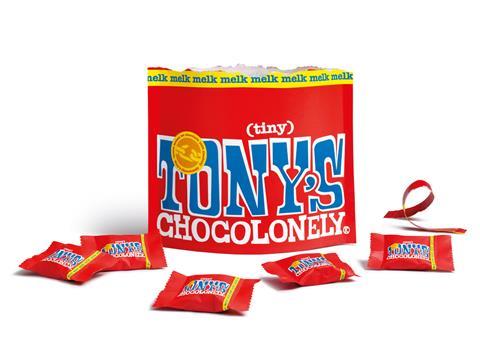 Sappi has collaborated with Dutch chocolate manufacturer Tony's Chocolonely on a heat-sealable, paper-based secondary packaging solution for its new "Tiny Tony's" chocolate varieties.
Sappi, which already provides the packaging for Tony's' larger-format chocolate bars, settled on its Sappi Guard Nature MS solution – an uncoated PEFC and FSC-certified paper with an integrated mineral oil barrier that can be recycled in the paper waste stream.
Tony's was founded by former investigative reporter Teun van de Keuken, who was committed to proving that producing so-called "slave-free" chocolate was possible. The company produces and sells chocolate bars closely following fair trade principles and opposing any practices of slavery, child labour, or any other types of exploitation.
Tony's wanted to avoid using plastic film as a base material. This became important when the company was looking for a solution for the secondary packaging of its recently introduced "Tiny Tony's" portfolio extension – 20 small 9-gram chocolate bars which had to be packed into matching secondary packaging: a stand-up pouch for the retail distribution to different markets.
Furthermore, the new packaging solution had to meet fundamental requirements in line with Tony's Chocolonely's strict sourcing policy.
Julia Wienk, sourcer at Tony's Chocolonely, describes the challenge the company took on: "We started by packing the Tiny Tony's in cardboard boxes, but as demand increased, we also wanted to pack them in stand-up pouches for duty-free outlets and in supermarkets.
"The challenge was to find a paper that suited our requirements: a paper on which we could print with a similarly high quality and which would be strong enough to hold 20 Tiny Tony's."
The decision-makers at Tony's Chocolonely say that they are happy with the results: "Sappi Guard Nature MS is the perfect paper-based alternative for our pouches. Its appearance and processing features convinced us completely," comments Wienk.