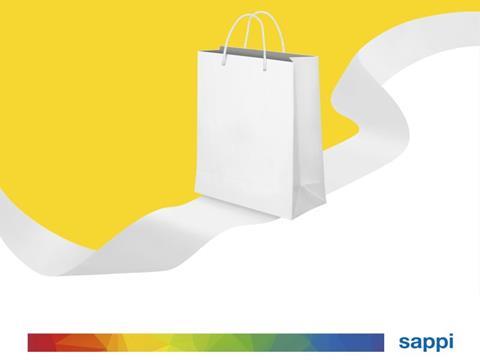 Sappi's latest specialty paper portfolio development sees it unveiling a new collection for the fashion-forward shopper.
Driven by consumer preference for sustainability, Sappi has designed a family of shopping bag grades that present a unique 'one stop shop' marketing solution using recyclable and renewable paper-based products.
New grades launched by Sappi for its shopping bag portfolio are Fashion® White and Fashion® White OF that feature high whiteness with natural and good printing surface in a wide range of virgin fibre grades and grammages between 70gsm and 130gsm. Fashion White is a premium white MF Bleached Kraft and Fashion White OF is a premium white MF Bleached Kraft without added OBA. Both uncoated, machine finished grades are ISEGA certified for direct food contact and DIN EN71 certified for toy safety.Also included in the shopping bag portfolio are Algro® Baress, Algro® Fin, Fusion® Topliner and Algro Design® specialty papers to support unique brand communication across multiple industries, such as clothes, perfume, cosmetics and confectionary. The FSC® and PEFC™ certified options also deliver outstanding offset and flexo printing results, excellent colour reproduction, consistent premium quality and flexible reel and sheet availability in large and small volumes.
"This shopping bag portfolio has been hand-picked to provide brands with a way to overcome regulations banning the use of plastic, while recognizing consumer desire for more environmentally-friendly packaging," stated Michael Bethge, Productgroup Manager Flexible Packaging and Label Papers at Sappi. "This array of options provides an important part of a uniform brand communication through the high-quality look and feel of paper combined with environmental considerations and sustainability."Sappi's mills are located in the centre of Europe ensuring all the grades offer short European delivery times.
More info: