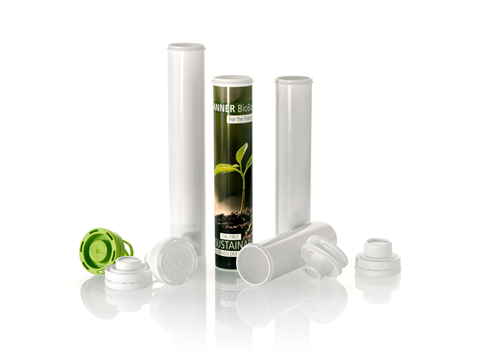 Following the launch of Sanner's bio-based effervescent tablet packaging in 2020, additional closure variants and new tube sizes are now available for a broader range of applications in healthcare products and food supplements.
Two years ago, Sanner launched Sanner BioBase, the first bio-based packaging made from renewable raw materials for effervescent tablets. "As a pioneer and market leader in this segment, we are aware of our responsibility towards the environment," says chief sales officer, Oliver Baumann.
"Accordingly, we have further developed the Sanner BioBase portfolio over the past months and can now tap into additional markets and meet their needs."
The Sanner BioBase effervescent tablet packaging is now available in four tube lengths and with five closure variants. Depending on customers' requirements, the tablet tube can be printed or provided with an IML label.
In addition to the previous DASG 1 desiccant closure, customers can now also choose between two DOG 1 and one DOSG 1 variant, as well as the user-friendly FOG 27 Flip Top closure, which can be opened with one hand.
All materials are approved for use with food products in both the EU and the US. The pack consists of more than 90% renewable raw materials and is made from either corn, sugar cane, or cellulose.
According to Sanner, an independent institute has confirmed that, when compared to petroleum-based plastics, the bio-based effervescent tablet packaging achieves savings (in kg CO2 equivalent) of around 15%. This reportedly equals more than 7 metric tons per million tubes, or roughly the emissions of four mid-range cars per year.
The company also says that the properties of the range are comparable to conventional packaging solutions. It claims that, from a chemical point of view, Sanner BioBase is almost identical to PE or PP made from fossil raw materials.
In addition, Sanner says that lower water vapor permeation ensures an approximately 40% longer shelf life of the packaged products, which contributes to fewer food supplements that must be thrown away. Moreover, Biobase can apparently be processed on existing filling lines.