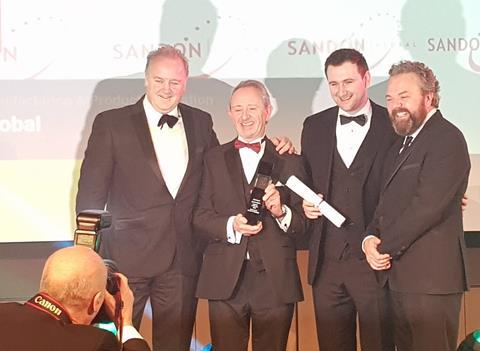 Anilox manufacturers Sandon Global are jubilant after collecting Gold yet again at the prestigious EFIA Awards this month.
Managing Director John Millington commented. "We took great pride in receiving this award as it is the result of the direct nomination of the print market we serve. I cannot ask for more than that."
Testament indeed, but the celebrations did not stop there as Sandon Global watched several of their UK and International customers collect awards for print. Richard Millington said. "We are overjoyed with tonights result, plus witnessing our customers collect awards for quality print categories is the icing on the cake!" Indeed it was a long list of winners including both the Gold & Bronze Best in Show.
Other category winners on the night that use Sandon Global anilox's included;
Flexo Print on Paper:
• Narrow Web: Bronze
• Medium Web: Gold, Silver & Bronze
• Wide Web: Bronze.
Flexo Print on Film:
• Reverse Print Medium: Gold & Bronze
• Reverse Print Wide: Gold & Bronze
• Surface Print Narrow: Silver
• Surface Print Medium: Gold, Silver & Bronze
• Surface Print Wide: Gold, Silver & Bronze
Corrugated
• Post Print: Coated Line & Screen: Bronze
• Post Print: Coated Process: Silver & Bronze
• Post Print: Uncoated Line & Screen: Silver
• Post Print: Uncoated Process: Gold & Silver
• International: Bronze
Special Categories
• Technical Innovation: Gold & Bronze
• Supplier Of The Year: Gold
So what is the secret of this success? John Millington summed it up in two words. "Our people." He continues. "Ultimately we can introduce processes, procedures and invest in equipment, materials and facilities. However it's credit to the knowledge, dedication and professionalism of our staff that implement our plans. Many of whom have worked with us for decades. This experience is invaluable as we never compromise in maintaining our service levels and product quality."
More info: