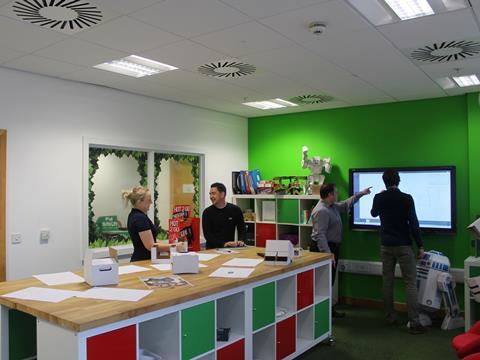 SAICA Pack has continued to invest in its ground-breaking Green Room with new technology to provide customers with greater quality and efficiency in printing and design.
The packaging leaders have added a Mimaki digital print table and a Kongsberg sample cutting table to their arsenal, bringing greater accuracy and speed to the printing process. This technology enables SAICA Pack's National Development Centre and Creative teams to provide the best quality services and samples for customers and an overall improvement to speed and quality.
The new technology provides SAICA Pack with the capability to now offer digitally printed sample packaging with white ink, spot varnish and representation of embossed areas. This means that customers can view the most realistic and quality samples during the new product development and sign-off stages of the design process.
This technology is the latest enhancement to SAICA Pack's market-leading Green Room, part of a network of facilities being commissioned across the UK – Wigan and Thatcham being the two which have come on line in the last year, at the company's National Development Centre in its state-of-the-art PM-11 facility in Greater Manchester. The Green Room plays host to an innovative workshop style environment where customers can bring ideas to life alongside the design expertise of SAICA Pack's Creative team and leave with a fully printed prototype sample; all within one day.
The Green Room speeds up the route to market by removing the need to go back and forth to approve and amend design changes, and the new Mimaki and Kongsberg printing technology improves the level of print capabilities removing the need for multiple design revisions.
Stuart Simm, National Development Centre Manager at Saica Pack, said:
"Since its opening, the Green Room has really transformed the way we design packaging, working together with customers and involving them in the process from beginning to end. The industry is always changing and we know that we have to move with it if we are to continue to offer our customers the very best in quality and design.
"This investment in new printing technology allows us to do just that and really moves our offering at the National Development Centre forward. The printed samples that we can now produce are as realistic as they can possibly be; catering for designs using white ink, spot varnish and embossed areas. We are really excited to share this quality with our customers and look forward to investing further in our Green Room."
More info: