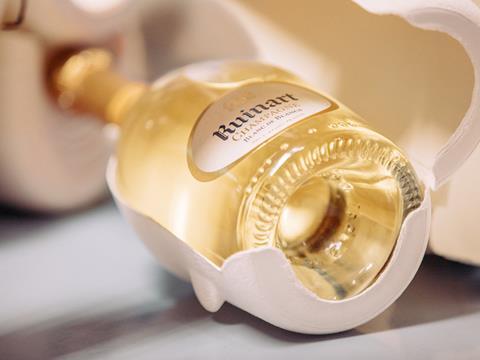 The world's oldest existing champagne house, Maison Ruinart, has announced a new lighter, fibre-based, recyclable case that it says reduces carbon footprint by 60% when compared with its current boxes.
Representing more than two years of R&D, the new 100% recyclable cases will replace the Maison's existing champagne boxes.
The very first champagne house in existence, Maison Ruinart was also reportedly the first to market a rosé champagne in 1764, the first to acquire the millennial chalk cellars ideal for aging wines and the first to collaborate with artists in 1896, by commissioning Alphonse Mucha to design an "advertising campaign" to promote its wines. The company's heritage also extends to packaging – it says that it was the first to use wooden cases for the transport of its bottles in 1769.
Building on this history, the Maison has developed an innovative "eco-responsible" ultra-light case – crafted from natural wood fibres apparently sourced from sustainably managed European forests – that it says is easily and fully recyclable.
Like a second skin made of paper, the case follows the lines of the bottle's curves and ostensibly allows the integrity of the Ruinart flavour to be preserved until tasting. Its raw texture and form nods to Crayères, the Maison's historic chalk-pit cellars in Reims, classified as a World Heritage site by UNESCO.
A total of seven prototypes were considered before achieving the final result, obtained by experimenting with different technological advances in the art of papermaking, molded to precisely follow the contours of the bottle in a single piece. The Maison claims that the absence of edges, made possible thanks to the precise, high-pressure waterjet cutting of the hull's contours (a process specially developed for Ruinart), makes the product unique, as does its closure system, activated by a snap button molded directly into the case.
In addition, the new case is apparently nine times lighter than the existing box and, according to the company, reduces carbon footprint by 60% compared to the current generation of Ruinart boxes, which it says already feature among the champagne industry's best-regarded in this respect. Maison Ruinart says that it used Ademe and B.E.E (Environmental Assessment of Packaging) methodology to determine the product's carbon footprint credentials.
Frédéric Dufour, President of Maison Ruinart commented: "With this second skin case, Maison Ruinart confirms its pioneering role in champagne and its ambition in terms of social and environmental responsibility. This disruptive project embodies the Maison's firm commitment to more sustainable development for its packaging across all stages of the development and marketing of our products, from the tending of the vine to the consumer experience."