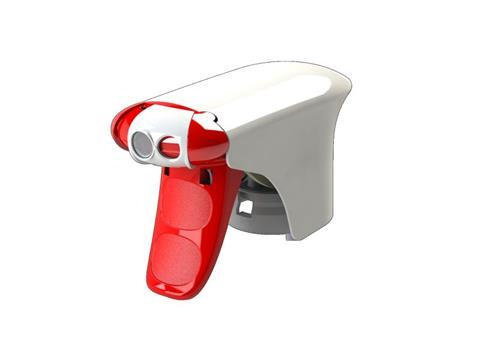 In partnership with Henkel, RPC Zeller Plastik has designed one of the next-generation trigger pumps for a section of Henkel's Laundry & Home Care range.
Henkel is one of the world's leading manufacturers of branded products in laundry & home care, beauty care and adhesive technology. The company holds a leading global market position in the consumer and industrial sector through its well-known brands such as Bref, Biff, Persil, Sidolin, Soft Scrub and many others.
As the introduction of innovative new products is a key element in Henkel's growth, the company selected RPC Zeller Plastik as one of its partners for the development and manufacture of Booster 2.0 for a part of its trigger sprayer products. Booster 2.0 is an eco-friendly 100% plastic trigger pump, featuring full automatic assembly with 100% in-line quality control.
Suitable for various applications such as bleach, hard surface, window and toilet cleaning, and air care, Booster 2.0 offers a premium alternative to the majority of trigger sprayers on the market. Unlike established versions, the Booster 2.0's pre-compression system efficiently dispenses the output at high velocity. In addition, it offers excellent spray and foam patterns with consistent droplet size. It is remarkably easy and comfortable to use while still delivering the necessary performance for effortless cleaning.
Pre-compression technology keeps the trigger sprayer perpetually primed and therefore ready for use while preventing leakage when the nozzle is open. Booster 2.0 also ensures powerful non-drip dispensing as well as a customised and precise spray control. It is available with a nozzle offering both spray and foam options, switchable via an innovative ´visor´, as well as an optional ISO-certified child-safe functionality in the pipe foamer nozzle and closure.
In line with RPC's innovation and added-value product strategy, the company will also offer the Booster S as a non-branded trigger sprayer that features a different design while providing the same authentic performance.
More info: