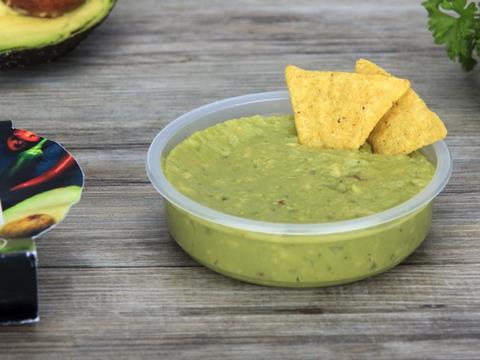 The combination of a multilayer thermoformed pot from RPC Bebo Deventer with HPP (High Pressure Processing) treatment is enabling a new and successful Dutch food company to offer a range of preservative-free dips with an extended ambient shelf life.
Lazy Foods, based in Ridderkerk, is an up-and-coming business specialising in the production of 100% fresh guacamole, hummus and tomato salsa, all of which use only natural ingredients and are manufactured without any preservatives.
In order to give the products a shelf life of at least 30/40 days, they are being filled in the RO 115 cup from RPC Bebo, which features a multilayer polypropylene structure to prevent oxygen ingress.
In addition, the cups undergo HPP treatment, whereby they are placed in a container and put under 6,000 bar water pressure. This provides a natural preservation process that eliminates harmful bacteria and mould.
The RPC cups are supplied in three sizes – 175cc, 250cc and 500cc – and sealed with a specially-developed multilayer polypropylene foil to maintain product freshness. An attractive and colourful outer sleeve ensures effective branding and on-shelf appeal.
Lazy Foods' products are stocked in many retail and foodservice outlets and the company is currently developing new additions to the range for cinemas in the Netherlands.
More info: