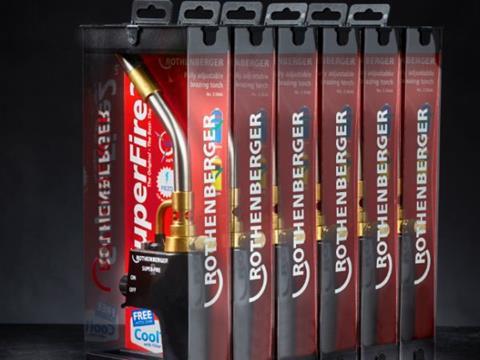 Rothenberger are recognised as the supplier of the worlds' most comprehensive range of professional plumbing and pipework tools.
Mention the name to any plumber and they will almost instantly associate the name with their best-selling Super Fire 2 soldering and brazing torch. Sold in 19 countries the torch outperforms their competition owing to its unique design and outstanding performance.
As with most successful products copies have appeared in the market. This prompted Rothenberger to review their position and presentation of the product. Various options were considered including clampack, printed board cartons and transparent presentation packaging. Following months of research Rothenberger chose to use the transparent pack designed by Bell Packaging Limited.
Marketing Manager Guy Hadwin commented "we have worked with Bell Packaging on a number of projects and it was good to get their experience and ideas in front of our marketing team which enabled us to create new packaging that is multifunctional."
The end caps are made using a special mould developed for the application. In addition to being a closure the cap can be used as a stand to hold the torch when not being used. The caps use the patented Jetlok® design of fixing (Patent No. GB2355000). This feature ensures that copies cannot be made and protects the substantial investment made by Rothenberger in the new packaging.
The end caps are moulded using a special PP polymer which delivers excellent strength. The caps are 100% recyclable. The body of the box is made using a recycled grade of PET recycled film. A hanging facility is added to the pack to deliver a flexible and attractive completed pack which is decorated with a silver foil print
Following the success of the packaging to present the Superfire model a second size of pack has been commissioned for the Quickfire brazing torch. The finished products can be seen in builders merchants and plumbing outlets throughout the UK.
Commenting on the presentation Guy Hadwin added in his statement "the finished packs deliver a statement that our company needed. Rothenberger Super Fires 2 is the UK's most popular brazing torch. By improving the presentation the product stands out when on display and the customers are particularly happy that the packaging is multifunctional."
Previously the clampacks would be opened, removed and put in the bin however the new packaging gives the user an ideal container to store the torch when not in use. To meet the 2017 launch date the mould to make the end caps was created in the UK and all other aspects of the packaging are manufactured at the new Bell production facility that is BRC registered.
Guy Hadwin added "the versatility of the Jetran® pack means we can use the same design for other items within our range."
More info: