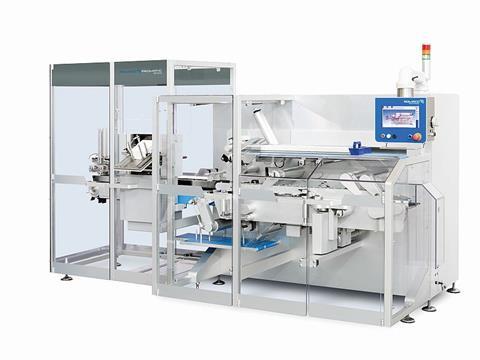 For the first time, Romaco will be demonstrating the new Promatic PCI 915 intermittent motion cartoner in the USA. The engineering specialist will also show two tableting technology highlights from Romaco Kilian.
A mere 3.5 metres long, this intermittent motion cartoner is designed with a very small footprint which is perfect when only limited space is available. The technology is mainly employed for the secondary packaging of blisters, sealed strips and bottles and can be configured either as a standalone machine or in line with a primary packaging unit. This compact cartoner currently achieves a maximum output of 160 cartons a minute. The ergonomic system concept of the PCI 915 simplifies operation and reduces downtime. For the first time, the containers for rejected products, leaflets and cartons are freely accessible and can be removed and emptied without interrupting operation. Product and packaging changes can be completed quickly and easily without tools. Formats are designed according to the poka-yoke principle to prevent parts from being incorrectly assembled. The cartoner's cGMP compliant balcony architecture moreover speeds up line clearance. All in all, the better visibility on the processes improves operating reliability. The highly automated Promatic PCI 915 provides reproducible parameters and high quality end products.
KTP 420X rotary press from Romaco Kilian: "cool, fast & clean" tabletingWith its modern design principles, the KTP 420X rotary press from Romaco Kilian is meanwhile firmly established in the market. "Cool" sums up all measures that keep the temperature in the process area at a constant level below 30°C, which is particularly ideal for processing temperature sensitive medications such as Ibuprofen or Metformin. "Fast" stands for the optimised retooling and cleaning times of the rotary press. With a maximum output of 360,000 tablets per hour, the Kilian KTP 420X can be unequivocally described as a high speed press for pharmaceutical applications. "Clean" refers to the hygienic design, which improves product quality and process reliability. The strict separation between the compaction, retooling and service areas prevents tablet dust from entering the machine compartment. The patented punch bellows protect the tablets from contamination with lubricants. The excellent OEE (overall equipment effectiveness) and TCO (total cost of ownership) values are key characteristics of Romaco Kilian's KTP 420X. The integrated HMI terminal featuring swipe navigation inspired by modern smartphones turns operating the rotary press into child's play.
Romaco Kilian STYL'ONE Evolution tableting robotThe Romaco Kilian STYL'ONE Evolution single-stroke press is the ideal solution for laboratory applications, whether for developing new formulations or for scale-up tests. It achieves a maximum output of 1,750 tablets per hour in configurations for mono-layer, multilayer or core tablets. The compression cycles have been speeded up by more than 60% and the maximum compression force increased to 50 kN in order to simulate high speed presses. Compression force profiles for all standard rotary presses like the Romaco Kilian KTP 420X can now be determined at full power. ANALIS, the intelligent PAT software, calculates all relevant tableting parameters based on compression force or displacement controlled cycles. The remarkable precision of the test batches means powder properties can be analysed very realistically. The STYL'ONE Evolution can thus also be utilised to optimise processes or troubleshoot errors.
On show at the Healthcare Packaging EXPO in Chicago, Illinois (USA) from October 14 to 17, 2018 (McCormick Place, West Building, Booth W-615).