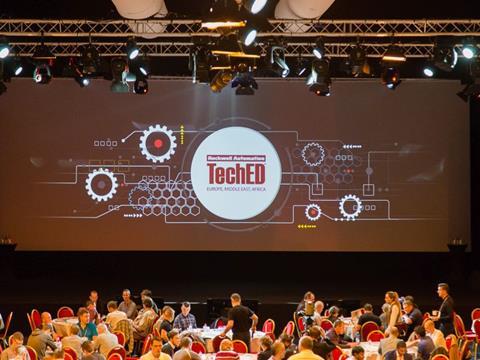 Rockwell Automation has successfully concluded its very first TechED technical education and user conference event in the EMEA region.
Already incredibly well known in the US, the EMEA event has proved just as popular, with over 700 attendees signing up in advance for places on multiple training streams and enjoying a unique networking event across three days.
The TechED event, which took place from October 17th to 19th at the Disneyland Resorts® Paris, France, featured over 250 hours of training, including hands-on labs, technical sessions and management discussions. Attendees learned about the latest techniques and technologies to maximise their manufacturing and production operations, while earning professional development hours.
Designed for end users, systems integrators, distributors, partners and machine builders, the event provided participants the opportunity to work with the latest Rockwell Automation products and technology solutions in a relaxed classroom environment. Here they learned from industry experts and saw how their peers are solving many common manufacturing and production challenges.
The event also provided sessions tailored toward information and manufacturing engineers, with numerous sessions focusing on IT/OT engineering and collaboration for industrial automation, including mobility & virtualisation, information management and analytics.
Thomas Donato, President Europe, Middle East, Africa (EMEA) Rockwell Automation explains the rationale behind expanding the event into the EMEA region. "As a global company we are committed to providing our worldwide users with the best possible support and training to help them connect people, assets and data across the enterprise. The success of TechED in the US region left us in no doubt that there would be high demand for a similar event in the EMEA region, and this has been justified not only by the attendance figures, but also the hugely post-event positive feedback we have received."
Keynote presentations delivered by senior Rockwell Automation personnel covered many of industry's primary issues and elaborated on how data is becoming a massively important tool for driving innovation and improvement. In addition to showing how companies can leverage The Connected Enterprise, important emerging technology trends were also discussed, including scalable industrial analytics and cloud computing, operational data infrastructure and management, digital transformation, remote access and monitoring and connected services and solutions.
More info: