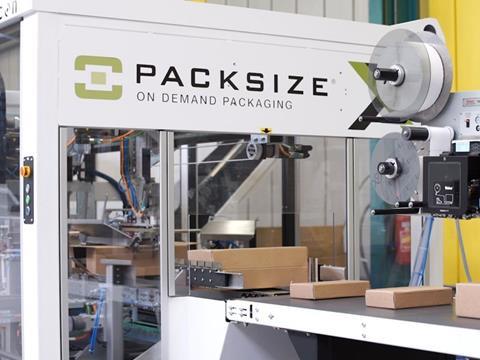 Packsize exhibits a complete process with sustainable packaging for products with very different dimensions at the FachPack.
It all starts with unpacked articles and ends with ready-to-be-shipped boxes. Moreover, Packsize shows the new X7, a fully automated On Demand Packaging system for eCommerce, providing high througput while producing tailor-made boxes.
The On Demand Packaging® system M1TM cuts fanfold corrugated to fit any size requirement. The M1 is what the company describes as the first of its kind that prints on boxes inline and individually - logos or barcodes, for example.
A folding table helps erecting the right-sized cardboard sheet, automatic glue sealing closes the ready-for-shipment box which a robot palletises eventually.
Fully-automated On Demand Packaging for e-commerce
Now, Packsize also offers a fully-automated solution to meet the needs of online retail and fulfillment faced with rapidly increasing e-commerce orders. The X7 is able to pack up to 1200 orders per hour, each one right-sized. This way, Packsize supports e-commerce with increased productivity and sustainability while offering options to effectively meet manpower shortages.
Tailor-made boxes save on average 20 percent packaging material, 60 percent void fillers and, most importantly, transported air. Transport volumes can be shrunk by about 40 percent, which in turn reduces the number of trucks on the road. Packsize customers produced more than 300 million boxes in 2018 globally, which equals about 75,000 tons CO2 saved.
Right-sized packaging furthermore protects products effectively against damages and offers consumers a much better experience when unpacking their orders without Styrofoam and plastic air cushions.
Packsize presents its range of solutions at the FachPack in Nürnberg from September 24-26, 2019 in Hall 3, Stand 3-341.