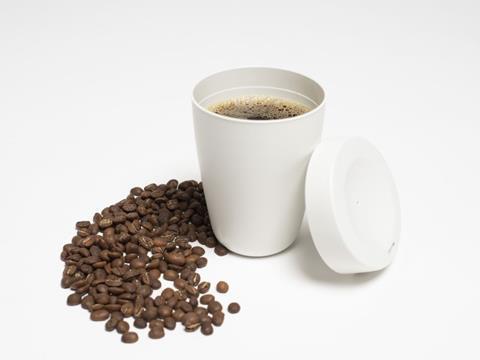 The trend towards reusable packaging is gaining momentum, and Packaging Europe regularly reports on new developments in that area. CupClub is a returnable packaging service designed to hold both hot and cold drinks. It uses smart packaging technology that applies a unique digital ID to every reusable packaging item, which helps to facilitate tracking and tracing of all reusables, measuring impact metrics return rate and making sure that packaging is structurally sound.
Elisabeth Skoda speaks to Safia Qureshi, founder and CEO at CupClub, and Kate Daly, Managing Director of the Center for the Circular Economy at Closed Loop Partners, which convened the NextGen Consortium, with Founding Partners Starbucks and McDonald's, to advance the development of sustainable packaging. The Consortium was instrumental in CupClub trials.
-Could you give me a bit of background information about CupClub? What sparked the idea, and how did you start implementing it?
Safia Qureshi: CupClub started as an idea in my agency in 2015 and grew into a startup once we were endorsed by the Ellen MacArthur Foundation and provided funding to develop and commercialise the system. Essentially I was looking to build a sustainable way for brands and retailers to move away from single-use packaging, towards a zero waste system that meant packaging could be reused multiple times.
-What materials are the cups made of?
SQ: Our current products are made from 100% recyclable plastics. We use materials which we know have a high material value to recycling companies and can provide valuable material stock at the end of life. Polypropylene is a high performing material for reusables as it can withstand high temperatures and yet maintains good structural properties.
-How do you address the challenge of collecting the cups after use, especially in the area of drinks on the go?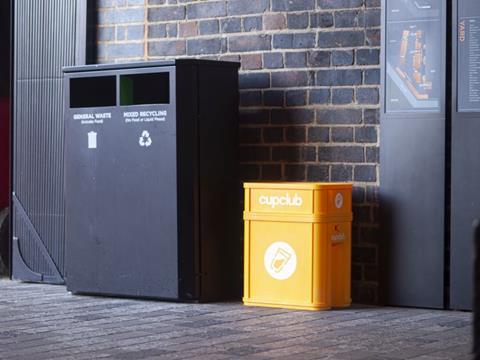 SQ: We have been operating for over two years, having recently completed over 400,000 orders with a collection and delivery system for multiple brands across the UK and the US. Our system is managed by a platform which allows our operating partners to know volumes needed to be delivered to each customer location on a daily basis. Routes are optimised based on these collections and deliveries. All our packaging is distributed in cases which act as a drop point for all dirties to be returned from consumers. This enables a seamless distribution model which is truly zero waste. Outer packaging is designed out of the system altogether. Cases carry the dirties to washing depots for sanitation and redistribution.
-Could you tell me about the technology behind the digital ID that helps tracking the cups?
SQ: All packaging carries a unique digital ID which provides digital information on the packaging and any product that has been associated with it. This enables our platform to manage tracing of all packaging, inventory management for customers, usage and behaviours etc. Our philosophy has always been to create every packaging product with its own unique identifier to truly manage and maintain packaging as an asset, rather than a waste product.
-How would you summarise the benefits of having this tracking in place?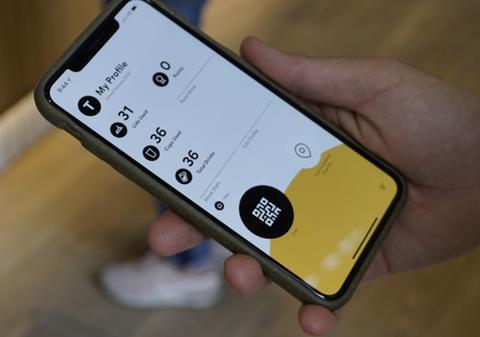 SQ: Packaging is tracked within a system and its activity is monitored. This allows brands and retailers to measure true impact and set this towards tangible sustainability goals. Measuring anything this way provides reliable data on operations to enable improvement and performance over time. This is necessary as we are truly looking to achieve Net Zero targets across cities. There is little way to optimise without accurate data.
-You have been running pilot tests with the NextGen Consortium, which includes Founding Partners McDonald's and Starbucks, in California. Could you give me an update on these?
SQ: Pilots across the Bay Area in February/March 2020 provided excellent KPIs for CupClub. The work done was in partnership with the NextGen Consortium, which includes brands Starbucks, McDonald's, Coca-Cola, Yum! Brands, Nestlé and Wendy's. We worked over a year prior to the pilots to develop the packaging and service to meet the needs of the Consortium brands. As a result, CupClub achieved stellar results indicating market readiness for reuse across consumers. CupClub's top reuse KPIs: Conversion is the percentage of drinks sold in reusables out of total sales. CupClub achieved a conversion of 20% in just two weeks from launch of the pilot. This meant one in five people ordering drinks-to-go requested CupClub. Return Rate is the percentage of packaging returned out of total packaging taken by consumers/end users. CupClub achieved a staggering 95% during the pilot.
Consumer/End User NPS is measured to assess quality of service. CupClub achieved a 54 NPS which is a very good/excellent rating.
-Has the COVID-19 pandemic and the reduced consumption of on the go drinks had an effect on your business at all?
SQ: COVID has certainly been a shifting tide for all businesses across hospitality and Food & Beverage. Whilst we saw some impact during Q2, we also saw customers return to normal operating procedures by June 2020, albeit with a reduced daily service. COVID required thinking about new and alternative models to address the new needs of customers and consumers. We are currently working with food delivery platforms and brands to address the surge of single-use packaging to households, by providing zero waste alternatives. These new products and services will be available in 2021.
-What are the steps you have been taking to tackle the big amounts of waste generated by on the go drinks?
Kate Daly: The NextGen Consortium, with founding partners Starbucks and McDonald's takes a holistic approach to addressing global waste challenges, including the current fiber to-go cup. With the aim of identifying, testing and scaling a suite of sustainable solutions to advance reusable, recyclable and/or compostable cup solutions, the Consortium works across the entire cup value chain to ensure that next generation cups bring value across the system. From harnessing innovative cup design to strengthening the recovery infrastructure that recaptures cups after use, the Consortium is shifting the current journey of the cup from something linear to something circular, and keeping valuable materials in play.
-What made you choose CupClub for the trial?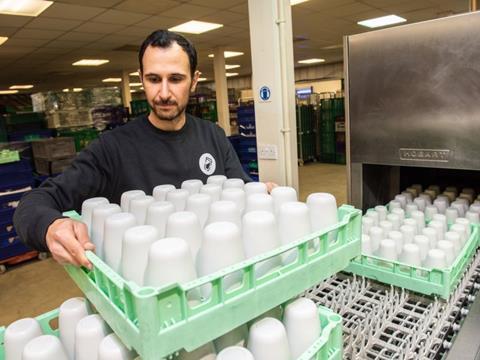 KD: CupClub helps demonstrate the modern future of reuse and refill models, which are convenient, smart and sustainable. Waste-conscious consumers are increasingly demanding eco-friendly alternatives, and CupClub is helping to meet those demands with an elegant solution that takes into account people, the planet and business.
-How has the trial been going from your point of view?
KD: Scaling reuse and refill models is a critical part of addressing today's urgent global waste challenge, and it's important that any new system is continuously tested and honed to de-risk solutions and set them up for long-term success. Through the NextGen Consortium pilots with CupClub and others, we have gained invaluable insights on the user and service experience, and technical performance, among other categories. This feedback helps us identify ways to successfully align next generation cup service models with the operational realities of our partners and others across the ecosystem.