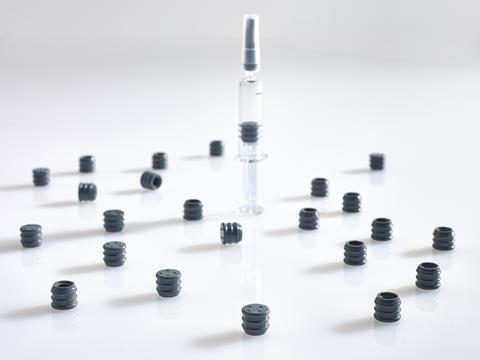 First Line standard: Cleanroom production exceeding the highest industry standards
All Omni Flex coated products are produced in facilities aligned with Datwyler's state-of-the art First Line manufacturing approach. To ensure that the components for pharmaceutical packaging, especially for biologics and biosimilars, meet the highest demands, the production environment must also be taken into account. A cleanroom manufacturing environment, incorporating advanced solutions and standards, is indispensable. Datwyler's First Line manufacturing standard entails a number of criteria that go beyond industry requirements. The fully integrated GMP (Good Manufacturing Practice) environment incorporates innovative automated processes and conforms to the highest industry standards. Each zone has been meticulously designed and constructed to prevent biocontamination and is equipped with material airlocks.
State-of-the-art pass-through washing equipment has its automatic loading side in one zone and its automatic unloading side in a zone of even higher cleanliness. In addition, the latest generation of camera inspection techniques is used. It exceeds the strictest quality standards of regulatory authorities and is certified to ISO 15378. All production lines operating under the First Line standard are designed to operate under a zero-defect philosophy. The process flow, gowning protocols,personnel and material flow, and state-of-the-art automation all result in the lowest endotoxin, bioburden, particulate, and defect levels available in the industry. Due to this high standard, absolute purity of pharmaceutical packaging components for drug administration can be offered. With the First Line manufacturing approach, Datwyler is at the vanguard of counteracting the large number of product recalls in the field of pharmaceutical packaging for biologics.
Datwyler as a company with a global production footprint wants to offer its highest manufacturing standard in all important health care markets worldwide. Two additional facilities are opening this year, both in accordance with the First Line standard. In Pune,India, the existing production facility will see an expansion for the manufacturing according to the First Line standard, supplying the important Indian market with high-tech pharmaceutical packaging components.
Datwyler officially opens its First Line production of Omni Flex coated components in the autumn of 2018. Around that time, Datwyler will also open a completely new production facility in Middletown, Delaware. This facility will also manufacture aligned to the First Line standard and provide the North American market with Datwyler's state-of-the-art components. With these expansions, Datwyler will be represented with manufacturing facilities in the most important pharmaceutical and healthcare markets worldwide and can supply its customers all around the globe with locally produced components. Short transportation and storage enable a less complex and safer environment and therefore a safer administration of medication. This local proximity is important for Datwyler to expand its role as a key player in the global pharmaceutical market, which will result in a higher and faster availability of safe pharmaceutical packaging options.
In summary, Datwyler's newly opening facilities with First Line standard for Omni Flex production in Pune, India and Delaware, United States stand for the company's approach to supply the markets with safe, state-of-the art pharmaceutical packaging for biosimilars and biologics. The Omni Flex coating with no requirement of siliconisation reduces the risk of contaminating biosimilars and biologics with extractables and leachables such as silicone oils. As Omni Flex coated components are manufactured in production facilities aligned to the First Line standard, they can offer some of the lowest particle levels in the industry.
Finally, local proximity is an advantage, as long storage and transport times can be avoided.With the help of these measures, Datwyler plays a vital role in reducing product recalls through supplying state-of-the-art components and while creating a safer environment for tomorrow and following its mission to improve the lives of patients.