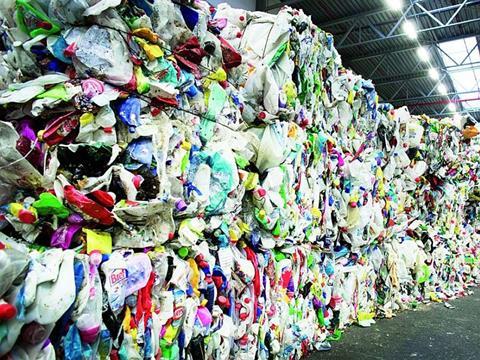 PET bottles are the perfect example of packaging items that are perfectly recyclable, mainly on a bottle-to-bottle basis and not infrequently to a rate of 100%. The proportion of PET bottles recycled in Europe in 2017 totalled 58.2% percent.
This said, striking differences are evident between countries. Whereas recycling rates of up to 95% are recorded in Germany and Finland, a study conducted by PETcore indicates that some Mediterranean countries struggle to achieve 40%. Vöslauer, the Austrian mineral water producer, switched to 100% R-PET bottles at the beginning of 2019 for all its water varieties, and this was extended to its flavoured range in April.
Vöslauer itself reports that it has even succeeded in reducing material consumption by around one quarter when compared to other R-PET bottles. Coca-Cola has also been very active for years now in efforts to offer customers more sustainable bottle variants. The corporation is now taking further steps with regard to chemical recycling of PET packaging which is then used to manufacturer new bottles. A PET upcycling plant is currently being established in the Netherlands in cooperation with the Dutch start-up Ioniqa Technologies in Eindhoven.
Effective collection and recovery systems have also existed for some time now for PVC window profiles, and the volumes involved here have increased from year to year. Within the Rewindo recycling initiative, an amalgamation of leading German plastic profile manufacturers succeeded in 2015 in processing over 27,000 tonnes of recycled material from old windows, roller blinds and doors and refeeding it back into the production process. In conjunction with waste from the plastic profile cutting required for tolerance production of new plastic windows, over 100,000 tonnes of recovered PVC found its way back onto the market. Rewindo says that this saves resources and energy and contributes to a reduction in the carbon footprint.
There are, of course, numerous other functional recycling systems (e.g. for PE bottle crates) which cannot all be mentioned here, but it can generally be said that the purer a recovered plastic is, the better it can be reprocessed for new products. Genuine cases of production waste have been practically eliminated. This is either returned directly to the current production process, or forwarded to specialised processing companies. One of these is Hoffmann + Voss GmbH in Viersen/Germany. It specialises in the treatment of engineering plastic waste, refining it to produce high-quality recompounds which are used in the automotive industry in place of new materials.
Reprocessing is always more difficult where mixed plastic waste is involved, but even here functional concepts already exist, as evident in Hahn Kunststoffe GmbH in Hahn/Germany. Every year, around 50,000 tonnes of waste from the mixed fraction are given a new lease of life in the form of railings, noise barriers, posts, bollards, flower boxes, waste containers and playground or municipal furnishings.
Although these recovery concepts are effective and interesting in themselves, the question does arise as to the practicality of processing all residual plastics, or whether it would be better to use those which are difficult to recover as fuel to replace fossil resources in incineration plants.
Recycling raw materials as an alternative
The issue of recycling raw materials and the recovery of unmixed initial monomers has garnered greater attention recently, with more and more companies launching research and development projects, such as Coca-Cola which exploits chemical recycling of PET packaging. Sabic, the chemical corporation, recently announced that, in conjunction with Plastic Energy, the British specialists in London, it would be establishing a plant in the Netherlands which would process commercial volumes of mixed plastic waste to produce oil which, in turn, would then be used as a raw material for new plastics. Starting material recovered in this manner conserves fossil resources and is a good example of a functioning circular economy. However, nascent projects of this kind need time to take root.
Circular concepts already exist in which newly filled, coloured or specific additive compounds are created from plastic waste and can be used by plastics processors to manufacture new substitutes for many products. Minimal or absolutely no adjustments need be made for the use of so-called recompounds, as manufacturers of injection moulding and extrusion plants continually emphasise.
The importance of these efforts is demonstrated in the latest investments made by major raw material manufacturers. For example, 2016 saw the takeover of mtm plastics GmbH in Niedergebra by Borealis.
The former has a plant capacity of 30,000 tonnes per annum and manufactures recycled polyolefins from mixed plastic waste. Together with the processing firm Suez, LyondellBasell took control of QCP B.V. in Geleen/Netherlands last year, a company whose state-of-the-art processing plant has a current capacity 35,000 tonnes per annum and manufactures PE and PP recompounds from post-consumer packaging. 2018 also saw the purchase by Albis of Wipag GmbH, the recycler and closed loop process specialist from Neuburg. Having specialised in the automotive sector for decades, Wipag has now even developed a process for recovering the robust material CFRP and enabling its reuse.
Recycling is not only a designated product category at K 2019, but is also discussed in the K Specials, as is the entire field of Circular Economy. The special show "Plastics shape the Future" aims to involve both politicians and socially relevant groups, while the "Science Campus" of K 2019 stands for the dialogue between science and business.