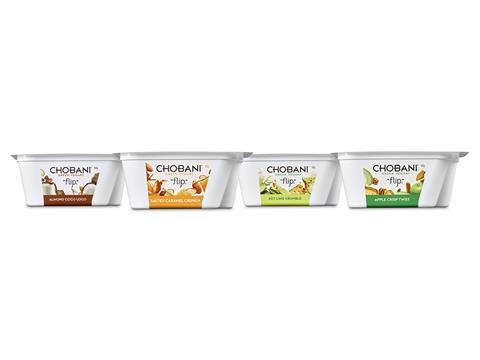 Verstraete IML has developed a Y-shaped IML for brand owner Chobani.
In 2017, Chobani Australia launched the Flip product range, featuring products that combine Greek yogurt with a dry, crunchy mix-in. "We needed smart packaging with two compartments, so that the consumer could combine the ingredients for consumption by 'flipping' the container," explains John Williams, New Product Development Manager, at Chobani.
Flip design is one of a kind
In developing the IML packaging, Chobani decided to team up with Australian injection molder PakPot, which specialises in turnkey IML solutions for FMCG brand owners. Their goal? To develop IML packaging that makes the difference on store shelves and offers brand owners a unique point of difference.
Joe Matto, CEO of PakPot, explains, "This flip design is one of a kind. Why? Because it's a twin injected polypropylene tub with a live hinge that is decorated with a Y-shaped IML label, with the injection gated through the label by means of a hole. It took approximately 12 months between the initial idea and the finished product.
We needed that time to conduct extensive testing. There are comparable IML products with two compartments and wraparound IML labels on the market. But, for this product, we designed a Y-shaped IML label: the legally required information is stated on the bottom of the packaging, while the sides and top are used for marketing and branding purposes.
The challenge was to properly analyse the polymer flow, since double injection automatically causes a stress line where the two materials meet together (a "cold Weld stress joint is formed"). It was critical that this stress line would not end up along the live hinge of the packaging.
Unique y-shaped IML label with drill hole
Bart Schatteman, Regional Sales Manager for Asia and Australia at Verstraete IML, explains, "Verstraete IML's greatest accomplishment in this project? The development of a Y-shaped IML with a central drill hole that allows the injection molder to inject in the centre section without obstructing a substrate, so that the end result is of excellent quality and with minimum waste production."
"In this project, Verstraete IML helped us push the envelope of possibilities offered by IML packaging," clarifies Matto from PakPot. "They also helped us from the very start with the development and testing of the right labels." John Williams from Chobani adds, "During the in-mold labelling process, packaging is produced and decorated in a single step. So, there is no need to store blank packaging, thereby eliminating both storage and transport costs."