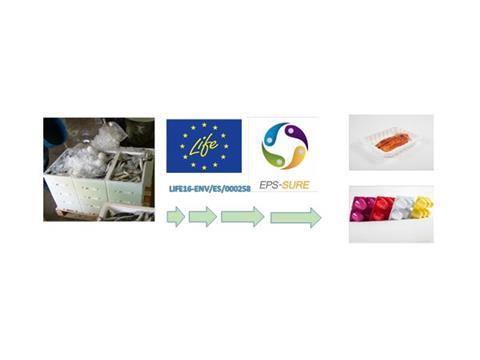 Boxes made of expanded polystyrene (EPS), known as airpop, are commonly used to package, transport, and display fresh products such as fish, thanks to their excellent properties of thermal insulation, protection, and food safety. However, a large share of these boxes end up in landfills throughout Europe.
The Consortium formed by ANAPE (National Association for Expanded Polystyrene), COEXPAN, CICLOPLAST, EL CORTE INGLES and TOTAL PETROCHEMICALS IBERICA have just started a research project slated to run for 3 years (July 2017 - July 2020), called EPS-SURE, to offer a technically, environmentally, and economically viable solution to convert this waste into a valuable resource.
A highly innovative project on the Circular Economy of Plastics
The pilot plant in the facilities of TOTAL PETROCHEMICALS IBERICA in El Prat de Llobregat (Barcelona) will demonstrate that it is possible to manufacture recycled polystyrene (rPS) with suitable quality to satisfy the high demanding requirements for applications in food contact
This ambitious and innovative project that will transform fish boxes into food packages, has been supported by the European Commission as part of its LIFE Programme for Environment, and is part of the EU's new strategy to move towards a Circular Economy.
The EPS SURE project will be developed in Spain. Also it can be expected to transfer and replicate the results in other European countries, with the support of prestigious international experts in the subject.
It is estimated that the number of EPS boxes sent to landfill in Europe could be reduced by 80% by promoting recycling.
According to Teresa Martínez, the General Manager of Cicloplast, the Project coordinator: "The project is a clear example of the true Circular Economy of Plastics, converting plastic waste into a new resource, showing a specific application with high added value for a waste that is currently being deposit in landfills".
In the opinion of Raquel López, Director of ANAPE: "EPS fish boxes are 100% recyclable, but in the commercial stream, they are not reused properly due to the difficulty of transporting them. This project will demonstrate that there are final applications with a high added value that will make the management of this waste profitable and its results will be the key to accelerate the increase in recycling".
Enrique Bautista, Director of Organization of El Corte Inglés notes: "Our commitment to the environment and our support for the Circular Economy have prompted us to participate in projects such as EPS SURE, which provide sustainable solutions for our shopping centres".
Marcelo Miranda, CEO of Total Petrochemicals in Spain says: "For Total, it is a significant environmental and technological challenge to produce PS from the EPS of the fish boxes, putting us on the cutting edge because there is currently no similar technology in Europe. We are going to work on an innovative process to purify the EPS that will enable us to obtain PS that is suitable for food contact".
Gonzalo Sánchez, Technical Director of COEXPAN says: "We are proud to collaborate on this ambitious project and demonstrate COEXPAN's commitment to sustainability and the Circular Economy, promoting new applications for high-value recycled plastic. We will create different prototypes of PS sheets with different percentages of recycled from the EPS fish boxes. It is a significant challenge to achieve the technical properties required for an excellent packaging must be determined".
More info: