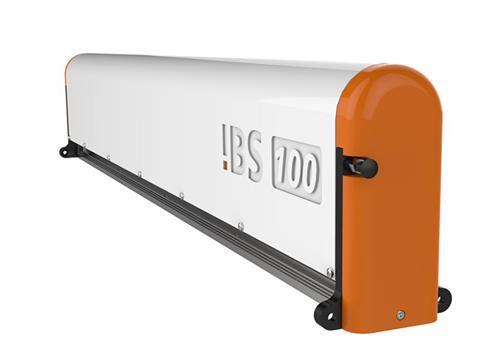 The IBS-100 (Intelligent Bar Sensor - 100 % full inspection) is the first product resulting from the acquisition of the assets of INTRO International by Q.I. Press Controls (QIPC).
This unique, innovative system enables 100% full inspection and can be combined with existing register and density measurement and control software from QIPC. This means that image-based density control, colour register control and perforation, cut-off control or side-lay control of the complete image can now be done with 100% full inspection.
To measure the quality in digital printing, we detect with the IBS-100 any missing jets from the print image or register mark. For the convenience of operators, via web-viewing, everything is fully visible during the printing process. The product is the first of its kind worldwide: never before has a supplier been able to combine so many functionalities in a single bar sensor. QIPC will be happy to explain about all the functionalities and possibilities that IBS-100 has to offer at LabelExpo Europe 2017 in Brussels.
Packaging print and digital print marketWith the asset acquisition of German-based INTRO International, QIPC aims to intensify its efforts in the packaging and digital printing market. The introduction of the IBS-100 represents a first concrete step. "QIPC wants to act as a partner in the packaging market and digital print," explains Jaco Bleijenberg, International Sales and Marketing director at QIPC. "We aim to do this by listening carefully to the needs of clients so that we can help meet their objectives. After all, what they want are ever more efficient production processes in which the quality of the printed matter takes centre stage." To achieve this, INTRO International's measurement system, which gives 100% full inspection, must be integrated in QIPC's existing analysis and control software. "Measuring and controlling the quality of printed matter are inseparably linked to the automation of the process. The IBS-100 is the first tangible result of the acquisition."
Attention to detailThe hundred percent full inspection which the IBS-100 offers will be in an extremely high resolution. That means it will be possible to detect every tiny error and ink spatter. In addition, the high resolution also functions to recognise small text and barcodes; paramount in the disciplinary environment that is the packaging and digital printing industry. It is essential of course, to have a top-quality control screen for a high-end measurement and control system. At the push of the button, every printed page can be displayed on the screen in its entirety, with the operator being able to zoom in on those areas that require attention. Any specific copy can now be inspected in detail with this web-viewing option.
Synergy benefitsQIPC's managing director Menno Jansen is pleased that the results of this collaboration have become immediately tangible. "It's clear to see that the synergy between our know-how, our Research & Development team and INTRO International's experience has had an immediate pay-off. Just like 20 years ago, we're launching a product which is unique in the global market." The IBS-100 is just the beginning. In the future, INTRO International will be bringing many more interesting products and technologies to Q.I. Press Controls. "Of course, investments will have to be made to continue developing their other products. But as you can see with the IBS-100, this is already delivery exciting end products."
More info: