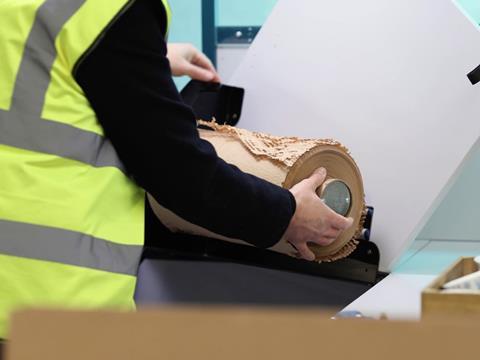 The dramatic increase in e-commerce business as a result of the COVID-19 pandemic has inspired the launch of a new paper-based packing system from Protega Global Ltd.
The Hexcel Dispenser Bench has been developed and manufactured in the UK by Protega to complement its paper-based alternative to plastic bubble wrap. This means that, as well as being dispensed using standalone equipment, Hexcel can now be integrated into a customer's packing station.
Requiring no power supply, this dispenser can be designed to fit a customer's specific requirements and deployed anywhere in the packing room or warehouse. It separates, wraps and tears off Hexcel paper wrap through the simple-to-use roller system.
All the parts for the Hexcel dispenser bench manufactured at the company's Salisbury plant are sourced within the UK and the paper is partly recycled, as well as recyclable.
The company says that a combination of the Hexcel equipment and stackable material on a packing bench can save time and improve production compared to operators having to access large rolls of bubble wrap stored elsewhere on the floor.
Protega also argues that the solution is flexible for different applications because it can spiral wrap wider products and because adhesive tape is not required.
In addition to the new dispenser bench, Protega offers a paper cushion, which provides protection against shock damage to goods in transit.