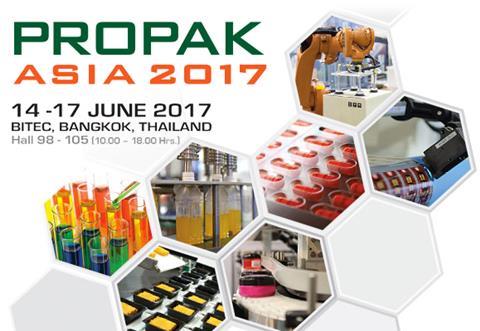 The 25th edition of the largest processing and packaging event in Asia, ProPak Asia, taking place from 14 – 17 June 2017, will celebrate a quarter of a century of bringing the industry together, building connections and sharing knowledge within Asia's rapidly expanding food, drink, pharmaceutical and FMCG markets. The largest edition to date, since first being held in 1992, has increased in space by 25 per cent this year and will occupy additional new halls at BITEC, in the bustling city of Bangkok, Thailand.
In addition to the impressive growth ProPak Asia has witnessed, the event will welcome over 2,000 exhibitors from over 45 countries and host 18 international pavilions from Australia, Asia, Europe, and North America. "ProPak Asia has maintained its position as industry leader for the past 25 years and consistently established itself as the leading platform for the industry to meet", said Justin Pau, General Manager, UBM BES. "Connections made at the event provide a strong return on investment for those exhibiting and attending."
Informative conference sessions which include talks on Breakthrough Packaging Technology and Materials from Taiwan, increased international participation, a diverse range of products and services and a range of networking opportunities is setting ProPak Asia up for a record breaking year. This year the show will host 8 industry zones for Processing Technology, Packaging Technology, Drink Technology, Pharmaceutical Technology, Lab & Test, Materials, Coding, Marking & Labelling, Cold Chain, Logistics & Warehousing, thus making it easier for buyers and sellers to plan focused meetings. The 25th edition of ProPak Asia will be held alongside Printech Asia, a new event dedicated to the world of technologies for Converting, Package Printing and Labelling and in partnership with ACIMGA, the Italian machine manufacturers' association.
Over 5,000 machines will be on display at ProPak Asia from leading names such as Buhler, Heuft, Hörmann, Mitsubishi Chemical, Siemens, Tetra Pak and many more. The show has strong support from the world leading associations including from Australia - Australian Packaging and Processing Machinery Association (APPMA), China - China Council for the Promotion of International Trade (CCPIT) and China World Trade Center (CWTC), Denmark - Confederation of Danish Industry - Dansk Industri, France – Business France, Germany - Bavarian Ministry of Economic Affairs, Infrastructure, Transport and Technology, Italy - Italian Manufacturers Association of Machinery for the Graphic, Converting and Paper Industry (ACiMGA), Italian Packaging Machinery Manufacturers Association (UCIMA) and Processing & Packaging - The High-Tech Italian Way, Japan - Japan Packaging Machinery Manufacturers Association (JPMA), Korea - Incheon Business Information Techno Park, (IBITP) and Korea Packaging Machinery Association (KPMA), Singapore - Association of Small & Medium Enterprises (ASME), Spain - Amec-Envasgraf, Taiwan - Taiwan Plastics Industry Association (TPIA), and World Trade Center Taichung (WTCT), United Kingdom- Processing and Packaging Machinery Association (PPMA) and the USA - Packaging Machinery Manufacturers Institute (PMMI).
ProPak Asia 2017 will also welcome international group delegations from: Bangladesh - Exporter Association of Bangladesh, Cambodia – Cambodia Association of Food Science and Technology (CAFST), Cambodia Water Association (CAWA), Indonesia – The Indonesian Food and Beverages Association (GAPMMI), Indonesian Packaging Federation (IPF), Lao - Lao National Chamber of Commerce and Industry (LNCCI), Malaysia - Federation of Malaysian Manufacturers (FMM), Myanmar - Myanmar Food Processors and Exporters Association (MFPEA), Myanmar Industries Association (MIA), Myanmar Fisheries Products Processors Exporters Association (MPEA), Philippines – Association of Laguna Food Processors (ALAFOP), Dairy Confederation of the Philippines (DCP), Packaging Institute of the Philippines (PIP), Singapore - Food Industry Asia (FIA), Singapore Food Manufacturer's Association (SFMA), Singapore Manufacturers' Federation (SMA) and Vietnam - Association of Testing Laboratories (VINATEST), Vietnam Beer - Alcohol Beverage Association (VBA).
Visit Asia's leading Processing and Packaging Event and join exhibitors for an exclusive opportunity to hold one-to-one meetings and access quality education and networking events. The event will be held from 14-17 June 2017 Bangkok International Trade & Exhibition Centre (BITEC).
More info: