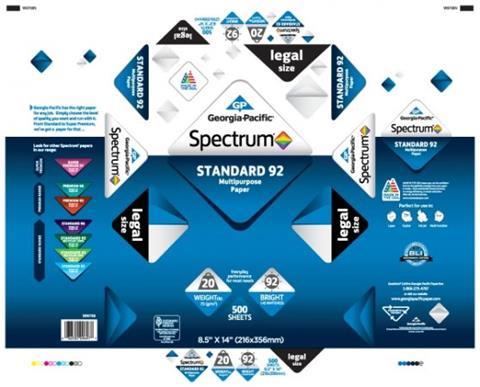 When customers challenged ProAmpac to add snap and shine to their packaging, ProAmpac responded with an award-winning design.
The flexible packaging innovator, based in Cincinnati, received seven awards for Excellence in Flexography from the Flexographic Technical Association (FTA):
GOLD Recognition
• Gateway Premium Multi-Purpose White Copy Paper wrapper;
• Boise X-9 Multi-Use Copy Paper wrapper for Wide-Web, Screen, Uncoated (pictured)
• Georgia-Pacific Spectrum Standard 92 wrapper for uncoated.
SILVER Recognition
• W.B. Mason Flagship Premium Copy Paper Wrapper in the Wide-Web Process, Uncoated category;
• Macy's Troll Bag, a printed paper bag, in the Wide-Web, Coated, Process category
BRONZE Recognition
• Hammermill Business Paper Wrapper, also in the Wide-Web, Process, Uncoated category
Special achievement
• Prolamina for its HD Flexo Water Promo Bag, one of three in the self-promotion and non-traditional category.
"From sharp images and tight registration to consistent repeats and proof-to-print matching – award recipients have proved the importance of attention to detail and unparalleled execution," the FTA said in announcing a total of 121 awards April 30 at its annual awards banquet in Phoenix, Ariz.
The awards recognize the "extra sweat spilled by the men and women on the shop floor or in the premedia department does not go unnoticed," the FTA explained.
The prepress and plates for six of the winning entries were produced by ProAmpac's in-house Graphics Departments at the Wrightstown, WI facility. "Having the prepress and plate capabilities allows for constant collaboration between the press and graphics departments, which helps us achieve the highest quality print for our customers. We are honored to receive these high-level awards", agreed Caryn Kuehl, ProAmpac's prepress workflow supervisor and Bob Fiala, printing process engineer for ProAmpac.
"This recognition highlights our expertise and commitment to make our packaging better and visually brighter," said Rita Cox, president of ProAmpac's Prolamina division. "More than ever, the packaging is helping our customers capture the attention of shoppers and energize the buying decision."
More info: