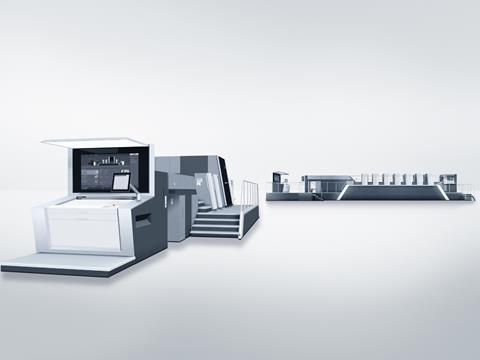 What impact has the coming of Industry 4.0 had on the print and labelling sector? As Labelexpo takes place this week, Victoria Hattersley puts the spotlight on the subject.
At Packaging Europe, we've talked a lot about the implications of Industry 4.0 when it comes to packaging and filling lines; not so much about smart machinery in print and labelling. But as with every part of the supply chain, increased automation and digitisation are playing a major role in the development of this segment.
The possibility to collect and evaluate sensor data has, for example, allowed for improved process transparency and efficiency when it comes to printing lines. Some might also say the growth of digitised print production has also gone hand in hand with Industry 4.0.
'Barriers to increased uptake'
That being said, the industry is by no means 'there', particularly when it comes to shorter runs of more complicated applications. "For example, if we talk about highly sophisticated inline applications with special coatings or cold foil applications – in those areas we need to improve the digital description of job applications with all relevant parameters," says Rainer Wolf, Head of Product Management Sheetfed, Heidelberg.
Cost can also be a barrier to increased uptake. Andreas Bauer, managing director of theurer.com C3, which develops ERP/MIS business management software for print and packaging, feels this could be partially down to a certain element of 'short-termism' when it comes to investment. "The two most important barriers are the awareness that automation and Industry 4.0 are the only things that are going to keep a company competitive and the price. Most companies choose to invest in a new production machine rather than investing in an automation or ERP/MIS software even though an automation software could save them a lot of time and money during the production cycle. The saved time – and with that saved money – during the production and information cycle might even have a bigger impact on revenue than a new machine has.
"My example shows both 'bottlenecks': the lack of awareness for the investment in software as well as the problem that most companies only have the money/time to invest in either the software or a new machine."
'Intelligent end-to-end solutions'
For those converters who haven't yet taken the plunge, how should they approach the task of integrating Industry 4.0-ready printing presses into a wider connected plant?
"Developing into a fully automated print shop requires intelligent end-to-end solutions on all levels," says Christopher Berti, Vice-President Prinect, Heidelberg. "It needs to cover the whole process starting with administration, production, employees and managing processes. It's not only a locally driven process; it can also be extended to more production sites and even to an international basis.
"In the future, more and more cloud solutions, e.g. a centralised colour database, will make data available within a global enterprise and additional machines and processes will learn from each other. For example, with Boxuni.com, Heidelberg has developed its first cloud-based web-to-pack platform that acts as a design portal, webshop and complete digital production chain for folding carton production."
When it comes to maximising value from such solutions, this lies in the successful management of production data. According to Christopher Berti, integration is the watchword. "Transferring information from A to B and using already existing information in any device will boost efficiency in packaging tremendously."
One challenge for manufacturers is the sheer amount of data they now have to process, analyse and react to – all while ensuring they keep up with customer demands. Increasingly automated production processes could offer insights into production data at the points where it originates, making it easier for users to find the information they are looking for.
Another possibility is to use software tools to collect, organise and analyse data. "For example, theurer.com C3 works not only with machine counters to evaluate speed and output of production machines, but also with logged machine hours and used paint," says Andreas Bauer. "All of this is collected and saved in the database and can lead to various charts and graphs that give an actual overview of the production and everything it includes. This information can be communicated through the whole company with mobile dashboards and other tools which are included in the software."
We can also look to the increased use of AI and robotics to push the printing and labelling segment forwards and extract even more value from production data. "Industry 4.0 doesn't start or end with the printing press," says Christopher Berti. "Our next step is heading towards self-learning digital data. AI (Artificial Intelligence) and the process itself is learning and adapting in order to automate further, reduce waste and increase efficiency. There is of course more automation potential with regards to plate and substrate handling before and after the printing process. Robotics for example may be the key to a complete automation."
Digital printing – 'The possibilities are endless'
We're also interested in how the digitisation of manufacturing processes is related to the wider digitisation of our society and economy, including the emergence of e-commerce, personalisation of consumption and – of course – the continued rise of digital printing. Could digital printing actually be considered a kind of 'Industry 4.0' phenomenon?
"The emergence of e-commerce and personalisation of consumption leads to increasing demand for digital printing," says Rainer Wolf. "Printers will need to print and deliver faster and job quantity sizes are decreasing. The main topic will be to handle far more jobs with less impressions in the same or even less time.
Today, companies of all sizes look to packaging to add value to the customer experience, differentiate their offer from the competition and streamline their processes to connect more closely to the end user. With the possibilities it offers for greater flexibility and customisation in shorter runs, digital printing can be a cost-effective way to address these requirements.
"The main advantage of digital print is that it allows completely new offerings with much higher value for brand owners as they can address the trend of individualisation and mass customisation and have new opportunities to run successful campaigns for their products," continues Rainer Wolf. "Examples of those unique offerings are packs for special user groups up to really individualised boxes and labels. Security features, unique identifiers for track and tracing of goods or codes for connected packaging and personalisation for a specific individual are available applications and easy to apply. The possibilities seem endless and only limited by the imagination of product managers and sales teams."
In terms of its implications for the future of the industry, it seems clear that the continued adoption of Industry 4.0 can only add momentum to the growth of digital print.