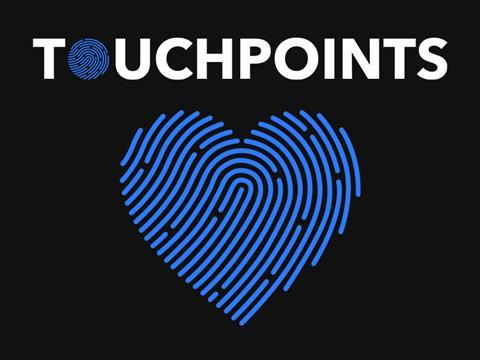 The Packaging Europe team is excited to announce the launch of a brand new website and magazine - Touchpoints!
On the backdrop of the digital media, e-commerce, and a proliferation of the virtual and physical touchpoints between brands and shoppers, there has never been a greater emphasis on the ability of packaging to engage with consumers. Touchpoints will delve deep into exploring the opportunities for brands to harness technology and imagination to create meaningful packaging experiences.
Touchpoints has been developed and is produced by the team behind Packaging Europe and is built on the same principles that have established its sister publication as the leading international media brand on packaging technology and sustainability: world class content, editorial integrity, and a tireless curiosity about the marketplace pressures and supply side innovations that will drive tomorrow's industry.
In addition to the website launch today, the team is also working hard on putting together the first Touchpoints magazine, which is scheduled for publication on April 8th, 2020. Why not be among the first to receive our brand new magazine and subscribe here?
Whether in the store or in the home, successful brand-consumer engagement is becoming increasingly crucial to product success - and those who invest in the right design / innovation strategies will be the winners in the new marketplace. Touchpoints is the brand owner's and marketeer's essential companion for navigating the shifting international FMCG landscape, highlighting retail trends and nuances, visionary thinking from brands and designers, and opportunities on the technological horizon to realise brand engagement. For businesses providing technologies at cutting edge transforming consumer interaction with packaging – whether through print and personalisation, agile and impactful promotions, materials and coatings that stop consumers in their tracks, packaging that interacts with smart devices, or new formats that redefine the very possibilities of packaging - Touchpoints is the opportunity to influence brand owners and retailers, online and offline.
Readers can expect Touchpoints to provide clear-sighted analysis, authoritative reporting and new thinking from both established visionaries and unexpected places. We delve into the key challenges facing the brands and retailers today and we drive the debate on crucial issues – from store impact to unboxing, from the implications of digitisation to the impact of new and timeless materials, and how issues such as sustainability, social media and broader lifestyle changes are shaping brand engagement.
The new publication strives to be as innovative and as engaging as the marketplace we talk about. We deliver our content not just in print, on our website and through newsletters, but in video and audio media, through networking platforms and in live events such as drupa 2020.