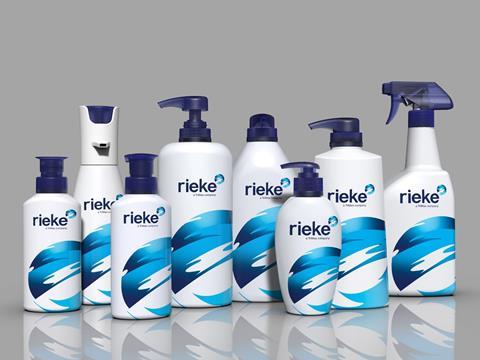 Rieke made a significant statement for the e-commerce channel in Q4 2018 with the launch of a new portfolio of non-leak trigger and pump dispenser solutions. Tim Sykes visited the company's Leicester, UK, R&D centre to find out what is driving Rieke's new innovation focus.
Ten per cent of global retail sales in 2017 derived from e-commerce, which as a channel is forecast to grow at nearly 20 per cent CAGR over the next three years. Moreover, FMCG e-sales seem to be growing at a higher rate still – achieving 26 per cent in 2016. Given that this surge is driven more at the expense of bricks and mortar than by overall retail growth, it's no secret that adding value to the online shopping market is one of the great opportunities for packaging today. Moreover, in this still young marketplace there is a profound requirement for packaging optimised for the direct-to-consumer supply chain.
Products passing through the e-commerce channel have to withstand more frequent and rigorous handling: statistically, a package is handled on average over twenty times (four times as often as in the bricks-and-mortar) and, anecdotally, it is more likely to be tossed into a van or dropped on a doorstep. If packaging is insufficiently robust, the costs to a brand can be significant: according to Rieke, replacing a destroyed item can cost up to 17 times as much as shipping. But reputational damage can be even more costly.
"Wrap rage is a big story today," Ed Wills, Rieke's global marketing director, told Packaging Europe. "We've undertaken a lot of social listening, which demonstrates that there are a lot of consumers out there who are angry either about products that arrive damaged or in excessive layers of packaging. In the era of online retail the impact of packaging mishaps are amplified instantaneously, as an angry consumer is often more motivated to post a review than a satisfied one."
A particularly challenging product category for the small parcel delivery channel are liquid products, which are liable to break and leak during shipping. This has been a major R&D focus for Rieke, as a leading global player in dispensing systems for personal care, food and healthcare packaging. Could Rieke deliver innovations that enabled liquid products to reach the consumer without damage or leakage – and eliminating the need for multiple layers of secondary packaging?
"For a few years we have been talking to Amazon to understand the pain points and gathering feedback from our brand owner customers," said Howard Manning, Rieke's VP global product development & launch. "This learning has been applied to testing of standard products and investigating the causes of problems. Through this process we were able to define, for instance, the sweet spot for the opening force to activate the lock on a pump: enough to withstand the typical impacts throughout the supply chain, while still being easy for consumers to operate."
The Amazon collaboration has already delivered generic solutions to the market, in addition to which Rieke has been working on customer-specific projects across the world, and a project in 2014 saw Rieke respond to a problem in Asia that a major FMCG brand owner was having with regard to broken liquid packages being delivered to consumers when ordered online. In short, design for e-commerce is long-term R&D strategy for Rieke.
"The guiding principle is that the consumer experience and the product condition must be the same for e-commerce as it would be if bought off the shelf," Howard Manning commented. "The product needs to look, feel and work the same way."
The fruits of this approach can at last be observed in Rieke's new portfolio of pump and trigger dispenser packaging. APASS certified as prep-free for Amazon and meeting the ISTA-6 standard, the packs are made to navigate the challenging conditions of e-commerce. A couple of these generic solutions will be already familiar to observant viewers of the packaging market: the LDS 2cc ECOM pump, featuring a plug seal that prevents leakage in transit, was a Diamond Finalist in the Dow Awards for Packaging Innovation in 2018, while a trigger sprayer developed in partnership with Amazon was soft-launched last year.
If the new suite of generic solutions can be seen as a culmination of an extensive R&D effort, it would be a mistake to regard it as the end. According to Rieke, in addition to ongoing product development projects involving India, China and North America, there is more innovation in the pipeline.
"E-commerce is clearly the big driver of growth for the coming years and we're continuing work on solving problems for the market," concluded Howard Manning. "The eight new products we are launching now are just the beginning: you can expect to see Rieke bring a lot more innovation around other dimensions of e-commerce in the future."
This content was sponsored by Rieke.