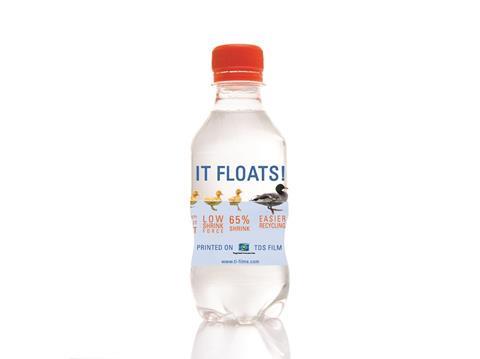 Leading films and distribution business, Plasfilms, has introduced polypropylene heat shrinkable film (HSF) from Taghleef Industries (Ti) into their growing films portfolio.
As an official distributor of Ti products in the UK, Plasfilms are currently the only distributor to supply a specific film for HSF applications. The new offering complements their range of other HSF products, notably PET, OPS and PVC.
The low density polyolefin polymers make the HSF an ultra-clear floatable film that minimises the impact on PET recycling systems and reduces the weight of the label. The product has exceptional shrink curve, in transverse direction (TD), and guarantees up to 65% shrinkage, thereby offering the potential for 360-degree label designs. Its low shrink force also enables the labelling of empty and thin containers and avoids the risk of squeezing.
Plasfilms' Alan Moules said: "Once again Plasfilms are in a great position to offer the market a product that is currently unavailable elsewhere in the UK. Not only is this new heat shrink film highly innovative it also provides a truly recyclable product for end-users.
"Our ongoing relationship with Taghleef Industries and their commitment to creating and offering alternative packaging solutions that contribute to improving sustainability of modern packaging, means that we will be consistently one step ahead of the competition."
Having built a reputation for unrivalled films and industry knowledge, Plasfilms' distribution processes cover the entire value chain with an advanced logistics model encompassing procurement, storage and delivery. With direct access to UK stock, the company provides a complete solution that is bespoke to individual customer requirements and is able to meet just-in-time demands.
Operating as part of the Plastribution group, the UK's leading polymer distributor, Plasfilms will be exhibiting on stand F35 at Packaging Innovations at the NEC, Birmingham, on 28 Feb – 1 Mar 18.
More info: