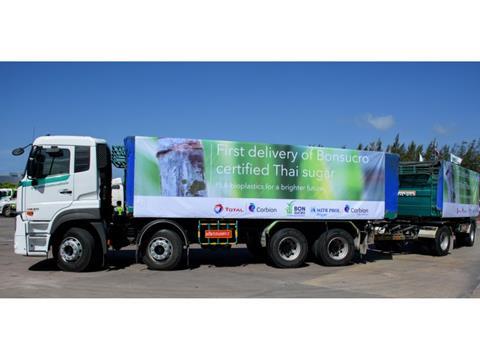 Total Corbion PLA, global technology leader and producer of PLA (Poly Lactic Acid) bioplastics and lactide monomers, has announced that PLA resins from Bonsucro certified sugarcane are now available for commercial order.
The company is committed to sustainable sourcing of raw materials, and works closely with Bonsucro and suppliers for continuous development, support and improvement of the Thai sugarcane industry. This latest achievement allows converters and brand owners to use a certified PLA bioplastic that has been produced from sugarcane grown supporting the principles of sustainable agriculture.
Renewable feedstocks like sugarcane are used to produce lactic acid, which in turn is converted into PLA bioplastics. These bioplastic resins can then be used for a broad range of applications, such as packaging, consumer goods and automotive components. Mitr Phol, a local Thai sugar supplier, has been the first sugar producer in Thailand to achieve Bonsucro certification in July 2016. Following this milestone, Total Corbion PLA is now Bonsucro Chain of Custody certified and will offer a range of PLA resins in accordance with the certification scheme. These resins will be promoted within the existing, commercial Luminy® PLA resin portfolio.
For François de Bie, Senior Marketing Director at Total Corbion PLA, sugarcane-derived bioplastics offer sustainability credentials that other plastics cannot: "A reduced carbon footprint and the multiple end-of-life solutions that PLA offers are key reasons why many brand owners convert from traditional plastics to PLA bioplastics. In addition, with the Bonsucro certification, we now offer our customers the guarantee that the biomass used to produce PLA was grown supporting the principles of sustainable agriculture".
This new portfolio offering is the latest development under the company's wider, continuous commitment to sustainable sourcing of raw materials. Total Corbion PLA's position on feedstock sourcing for bioplastics is outlined in their whitepaper, published together with Corbion, which also includes the company stance on feedstock selection, land use, feedstock efficiency and food security. In conclusion, Total Corbion PLA states that 'the concerns of using biobased feedstocks for plastics can be successfully identified and managed, and that the many benefits of these biobased, renewable feedstocks far outweigh their challenges'. The paper is available for free download at www.total-corbion.com/downloads. Furthermore, Corbion – from whom the lactic acid for PLA bioplastics production is sourced – has published their own sugarcane Code of Conduct to which all sugarcane suppliers must adhere, for more information visit http://www.corbion.com/about-corbion/sustainability/responsible-sourcing .
More info: