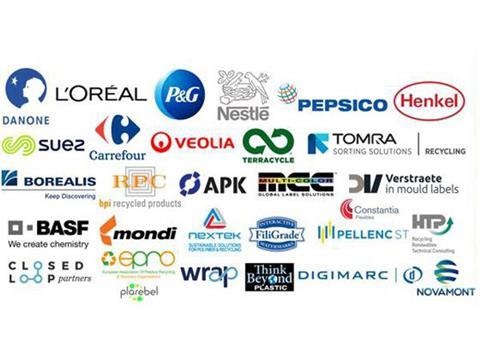 The pioneering project HolyGrail, led by Procter & Gamble and facilitated by the Ellen MacArthur Foundation, officially closed on May 23rd. This follows three years of innovation in the improvement of post-consumer recycling using chemical tracers and digital watermarks, with the aim of moving closer to a circular economy. A previously-unpublished Executive Summary, outlining the objectives and outcomes of the project, can be viewed here.
As a full value-chain pre-competitive collaboration project involving 29 partners (see picture above), HolyGrail was established to discover how the tagging of packaging can impact the accuracy of sorting and recycling systems.
The key precepts behind the project are that, once packaging is designed for circularity, the collection challenge (which includes putting right collection system in place and consumer participation) are solved, high quality sorting is a crucial step to dramatically improving current recycling rates and ensuring better recyclate enters the packaging stream.
Digital watermarks – 'potential for disruption'
One of the investigated technologies, digital watermarks, also has potential to bring disruption into other fields, such as consumer engagement and retail, through the creation of 'smart/intelligent' packaging. Major retailers in the US (Wegmans, Walmart) and in Europe are already adopting the technology in their packaging (see here).
Basic proof-of-concept for digital watermarks (through project participants Digimarc and Filigrade ) has been established by the project. This will open up new possibilities currently not feasible with existing sorting technologies, including:
making a distinction between food and non-food packaging
proper identification of full-body shrink sleeve bottles
ODR packaging (opaque and difficult to recycle, including black packaging)
Distinct mono and multilayer flexible packaging
proper identification of rigid multi-layer packaging materials (thermoforms, bottles…)
safe introduction of new materials not hindering established recycling streams and proper identification of recyclable vs. compostable packaging
ability for closed loop recycling.
Outcomes
During the course of the project, significant progress has been made in the area of digital watermark technology, with 'invisible codes' being integrated into both printed materials (labels, sleeves, in-mould labels, films/pouches), as well as directly into a mould (PET bottles, HDPE bottles, thermoformed trays, injection moulded crates, etc.).
Through this, the packaging becomes intelligent, a feature which can then be used across the full value chain: QA and inventory management at fillers; anti-counterfeit checks at stores; fast check-outs at retailers (making 2D barcodes and QR codes redundant); consumer engagement; and finally, to close the circle, improved sorting and recovery.
The consumer engagement aspects are particularly interesting, as the invisible codes can be easily read by mobile phones, bringing new features – ingredient transparency, coupons/loyalty, information on product use / dosage, and how to deal with the packaging at the end of life – directly to the consumer's fingertips.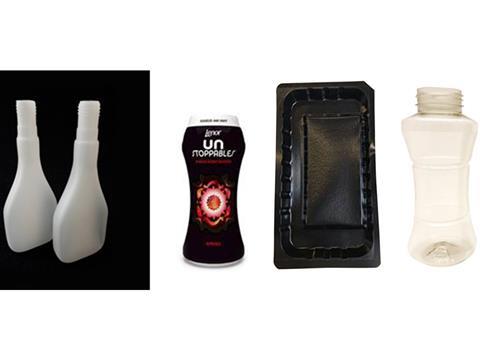 The HolyGrail project was officially concluded at an open house, 'Digital Watermarks At Work', at Tomra on May 17th. It included a live demo with an add-on module incorporated into an existing Tomra machine, effectively sorting out printed / embossed samples from several HolyGrail members (P&G, Verstraete In-Mould Labels, Borealis, and more).
A videoclip of this proof-of-concept is available here. Watch this space, as this video will be updated on an ongoing basis.
Around 69 people were in attendance, with representatives from HolyGrail members alongside associations including Plastic Recyclers Europe, Petcore Europe, PCEP, Ceflex, GS-1, Expra, Prospa, EPRO, AIM, SCS and A.I.S.E.
The next step
In order to build on the achievements of HolyGrail, it says the logical next step would be to upscale from an R&D test line to a (semi)-industrial line for which a couple of options have been identified after which the technology can be rolled-out on a wider scale.
To sum up, HolyGrail has proven that digital watermark technology can 'revolutionise' the industry's approach to sorting, thereby increasing efficiencies and leading to high quality/high quantity recycled materials (including food grade PCR grades).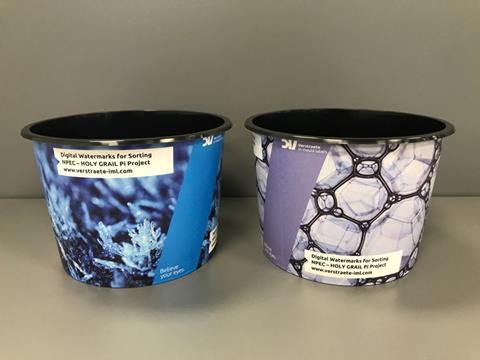 What the participants say
The project participants, including the core partners, retailers, brand owners and digital watermark companies, share their thoughts on the progress made so far:
Gian De Belder (Project leader, HolyGrail): "Low recycling rates in EU are mainly related to low collection numbers and low sorting efficiencies. Project HolyGrail looked into different technologies to improve the latter. Packaging can be made intelligent through the use of Digital Watermarks, without having an impact on established recycling streams (e.g. no battery, no metallic wires, etc are needed to make them smart). This intelligence can be used throughout the full value chain (packer/filler, Quality Assurance and inventory management, anti-counterfeiting, consumer engagement [including recycling instructions through your smartphone] and lately also End-of-Life [automatic sorting lines]).
"During this project, the concept of an add-on module onto an existing sorter has been successfully proven. This now opens a variety of possibilities today not feasible with standard sorting technologies. It has been a great three years of leading this true full-value chain project and wanted to thanks all members that contributed to the successful proof-of-concept of this industry-first new sorting technology"
Nico Van de Walle (Product & Circular Economy Manager, Verstraete In-Mould Labels Labels – a Multi-Color Company): "IML packaging is 100 per cent recyclable and has a high value within a circular economy and therefore it would be a shame, both environmentally and economically, not to valorise these assets within a circular economy. IML labels, enhanced with a digital watermark, could easily and swiftly become the future standard as we do not need any special or additional inks to print these interactive IML labels. Therefore we're proud and motivated that we, on behalf of our customers, can play an active role in this project, so that IML and any other plastic packaging worldwide is getting sorted and recycled into the most valuable recycling stream."
Oliver Lambertz (Business Development Manager Segments, TOMRA Sorting GmbH): "TOMRA was delighted and honoured to be a member of the HolyGrail project. With a strong focus on circular economy TOMRA will continue to work on innovative solutions that will help to close the loop for plastic packaging."
Sabine ZARIATTI (Plastic activity leader, Suez): Plastic recycling is complex. To reach ambitious targets, all the value chain has to work together. Holy grail is the first large scale innovative project to find new sorting routes and I believe this technology will be part of the future of plastics sorting and recycling)
An Vossen, (Executive Manager, Plarebel): "A new breakthrough in marker-based sorting technology holds the key to improving plastic recycling, providing high quality sorting and boosting recycling quality and yield. Aside from the technical progress made during the Hol Grail project, we have seen how the entire value chain has embraced marker-based sorting as a crucial next step, which is fundamental to deliver the circular economy for plastics."
Larry Logan (Chief Evangelist, Digimarc): "Digimarc Barcode for the recycling of plastic objects and shrink labels further demonstrates the broad utility of our Intuitive Computing Platform, delivering a circular economy approach to packaging from birth in manufacturing, to rebirth as recycled products. We are excited to help brands, retailers, and the recycling ecosystem satisfy demanding regulatory requirements and public commitments for sustainability. And, we look forward to broadly licensing our technology to the industry upon commercialisation."
Johan Kerver (CEO, Filigrade): "Filigrade was the first to show in 2016 at Petcore that watermarks embossed in packages for sorting purposes would be the innovation for the future. We are delighted that now in 2019 the innovation proves, after development to industrial scale, that plastics can now be better sorted and serve as high-quality raw materials."
Maurits Van Tol (Borealis Senior Vice President, Innovation, Technology & Circular Economy Solutions): "Borealis' participation in the New Plastic Economy initiative of the Ellen Macarthur Foundation helps us drive our EverMinds™ vision and mind-set. Advancements in sorting technology such as those investigated in the pioneering HolyGrail project are key to improving recovery rates and enabling higher quality plastic streams to broaden end markets for recycled plastics. Borealis is proud to have participated in this collaborative project to demonstrate the capabilities of the digital watermarking technology at industrial scale."
Pascal Chapon (Sustainability Team Manager Packaging Materials Techno Center, Danone): "This new disruptive technology is an opportunity to help accelerate the transition towards a circular economy of packaging. It could boost both recycling quality and yield and contribute to improve circularity of our packaging in line with ambition of Danone Pack Policy. We are supporting the development of this technology and want to contribute to its development at industrial scale."