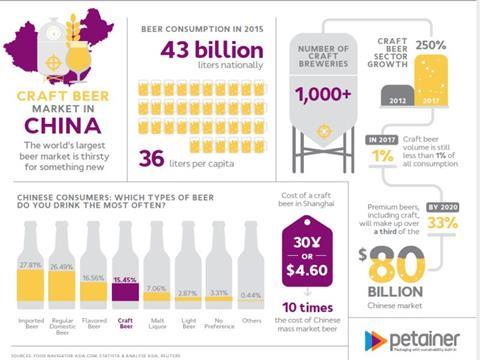 Petainer, a market leader in innovative PET packaging, is focusing on the fast-growing micro and craft brewer markets in China and the surrounding region as part of its global expansion plans.
The business has made a significant investment to ensure that it can support this key market effectively and efficiently and is working with KHS China as its official distributor.
Petainer's market-leading PET one-way petainerKeg™ is increasingly being used as a low-cost alternative to traditional steel kegs because it offers significant cost of ownership and sustainability benefits. It also provides enhanced product protection, making sure that the beer is as good as the day it was brewed for up to nine months.
Chris McEwan, Group Business Development Director, Petainer, said: "This is an exciting opportunity for Petainer as China's craft beer market continues to grow apace. As a result, breweries will need to provide increasing volumes of beer in draught format. petainerKeg™ offers them with a low-cost and sustainable solution to growing their market, supported by world-class technical expertise."
Using its knowledge and experience of working with larger, global brewers, Petainer has developed a highly-tailored craft brewery proposition. Petainer's wide-ranging offer to support smaller breweries also includes:
PetainershopPetainer's on-line shop www.petainershop.com makes purchasing smaller quantities of petainerKeg™ as quick and efficient as possible. Brewers can choose, purchase and take delivery of their kegs in three to four days - with the click of a mouse.
petainerKeg™ AppThe free petainerKeg™ App ensures that help is always on hand when using the kegs - in addition to Petainer's team of technical experts who are available to provide advice and support when needed. The App provides step-by-step instructions for the correct use of the petainerKeg™ with Well-Type Fitting (S and D type with no pressure release valve) and with Flat-Type Fitting (A type with no pressure release valve) which is coming soon. The app is available for free on the Apple App Store and Google Play .
Petainer is exhibiting at this year's Craft Beer China 2017 Conference & Exhibition (CBCE) which is taking place at the Shanghai World Expo Exhibition & Convention Centre, from 17 to 19 May. Petainer will be sharing the stand with KHS, its official distribution partner in the region – stand D01.
More info: