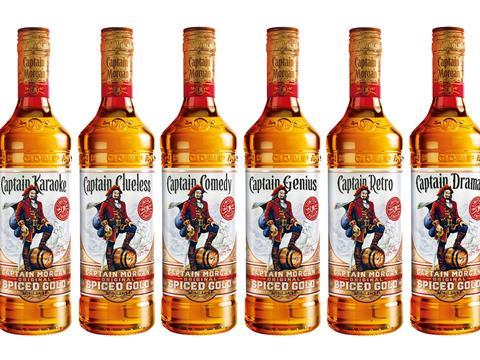 With their latest promotional range of Captain Morgan, Diageo reveals a whole crew of buccaneers: The famous rum brand is available with variable decorations where "Morgan" is replaced with different names.
Captain Drama, Genius and Clueless are just a few examples to choose from. The option to select the captain one identifies with the most aims at the growing trend for personalised products. It gives consumers the opportunity to celebrate the "unique personalities" within their friendship crew.
According to Diageo an "extensive consumer research and trial" found that 76 per cent of consumers who surveyed said they would make the purchase and 82 per cent thought the idea was "fun and relevant to them."
Nik Keane, global brand director for Captain Morgan, said: "Initial consumer research has been incredibly positive. Coupled with the growing popularity of the rum category, which has seen 4% year-on-year growth driven by the Captain Morgan brand, we are confident our limited edition bottles will help retailers boost Captain Morgan sales over the coming months".
The promotion will be available across 17 markets in Europe. Considering the high number of labels and the need for variable digital printing Diageo turned to their long-term partner CCL.
Thanks to their ASD (Any Stage Differentiation) technology the label supplier was able to provide the best solution. By flexibly combining conventional and digital printing CCL was able to match the high quality of the standard label and its embellishments while varying the Captain name.
The printing of the labels was a special challenge considering the absorbance of the ink jet on paper stock as well as printing directly onto cold foil. The CCL Castleford team surpassed both customer and design agency expectations.