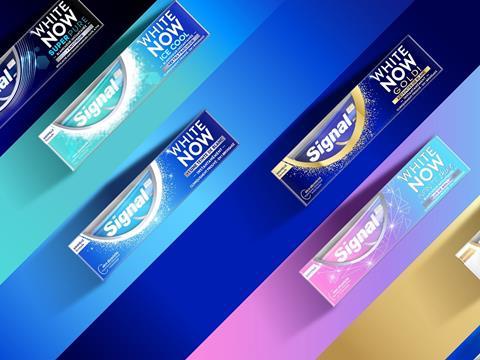 Award winning brand design agency PB Creative has continued its partnership with FMCG brand owner Unilever to redesign Signal's premium teeth whitening oral care range WHITE NOW globally.
The White Now brand has been a leading innovator in teeth whitening since 2008. The category is fast moving and consumers are constantly looking for new products with added benefits, heightened performance and faster, superior whitening results. New products and innovations are launching continually and the brands in market are regularly reinventing their positioning.
With this in mind, the brand team was eager to maintain White Now's premium proposition with a structural and graphic redesign that further emphasised the brand's beauty credentials and felt more relevant to the hard to reach young millennial consumer. Unilever also used this opportunity to add new variants 'Infinite Shine' and 'Forever White ' to extend the portfolio.
PB has revisited the suite of colours used across the range to modernise the portfolio and reinforce the brand's high end appeal. The PET 'window' in the outer carton has always been a point of difference for the range. The team has redesigned its shape to afford more room to showcase key brand assets such at the White Now sparkles and to reflect the 'smile' master brand logotype. Each variant has its own expression of the sparkle which has been crafted to work in harmony with the carton window, bringing the product benefit to life and to differentiate it clearly from the rest of the range.
Ben Lambert, Creative Partner, PB Creative commented: "We've enhanced the holistic presentation of the whole White Now range delivering a more modern and sophisticated aesthetic whilst respecting the brand's heritage. Beauty cues have been dialled up and the product story is now communicated in a much more compelling way via a coherent brand architecture, making it stand out on shelf and in the hearts and minds of consumers."
Pilar Pereira, Global Brand Manager, Unilever added. "PB Creative has brought our evolved proposition for White Now to life through engaging new packaging designs that keep the brand fresh, relevant and appealing to its core target audience of young millennials aged 18-35. The team has elevated the White Now range to the next level, helping us to drive premiumisation, superiority and growth."