Sustainability Awards 2017 runner up: Bio-Based
Parkside, Compostable Biscuit Bag
What if food packaging was just like an orange peel and returned to nature immediately after its use? Leading packaging solutions provider Parkside has tapped into that concept and developed a flexible resource efficient compostable pack just like the orange peel.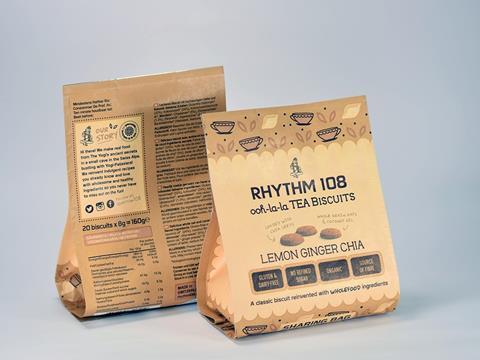 Parkside worked recently with ethical food brand Rhythm 108 to produce a compostable share bag for biscuits. The Rhythm 108 pack includes a paper / metallised Natureflex® / bio polymer sealant web. The cellulose layers have a filmic appearance but are made from sustainable sources including eucalyptus trees or corn waste, including the adhesive that bonds the layers together.
The multi-layer structure offers a high barrier for biscuits, providing excellent moisture and oxygen barrier, extending product shelf life. It includes a metallised layer delivering increased moisture barrier to prevent the contents from going soft, helping both retailers and consumers minimise food waste.
The barrier laminate has completed rigorous disintegration and eco-toxicity testing for home composting with recognised European laboratory, OWS. The duplex and triplex laminate structures have attained full accreditation under Vincotte's OK Compost Home and Seedling certification after achieving a high degree of compostability, even at ambient temperatures.
In addition, the lightweight flexible design offers a lower carbon footprint solution compared to other heavier packaging formats. As the Rhythm 108 packs can be composted there is no requirement for local authorities to collect and no charge for landfilling.
From a sustainability perspective, Parkside is utilising sustainable materials to develop the pack instead of oil based polymers. In addition, this reduces the burden on landfill.
An important element of this product is that the packer can use their existing assets to use the Rhythm 108 materials. The packer does not need to invest in new equipment to make and offer this advanced compostable solution to end-users.