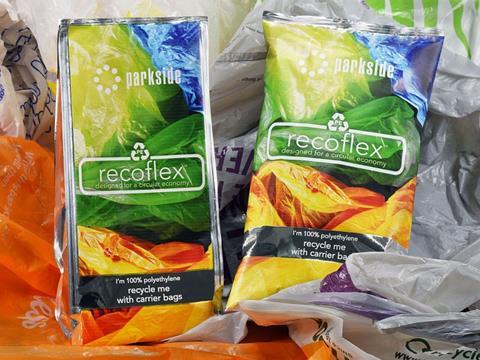 Parkside has launched a new fully recyclable single polymer laminate with the barrier properties and sealing performance that mirrors a range of commonly used laminates in the flexible packaging sector that are not currently recycled.
Designed to support a circular economy, recoflex-PE is made from 100% Polyethylene (PE) which enables the packaging material to be recovered via the established carrier bag collection and recycling infrastructure. Consumers simply take it to retail stores with collection points.
The laminate design brings together two grades of PE creating functionality including excellent printability, mechanical strength and high barrier to ensure its suitability for a wide range of flexible packaging applications, compared to other standard PE materials on the market.
The innovative laminate can be used for most flow wraps, pouches or bags that require a high barrier, and are not designed for use in elevated temperatures. It is ideal for nuts and snacks, most cheeses, coffee, protein powders and nutrition packaging, as well as high barrier lidding films for protein foods.
Innovation Director at Parkside, Phil O'Driscoll, said: "We pride ourselves on creating progressive and innovative packaging that meets the needs of both the market and the consumer. recoflex-PE is our latest creation that fits into this mantra and we are truly proud of bringing a new fully recyclable product to market which is easy to dispose for the consumer."
Set to be validated with recyclers and the OPRL scheme, recoflex-PE is available for production trials with customers, with the first market launch expected following their conclusion.