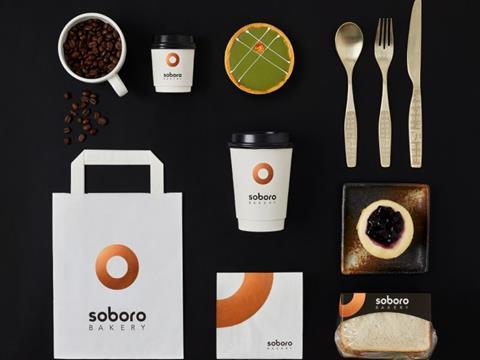 Brand and design experts, Parker Williams, part of Sun Branding Solutions, has created the packaging and in-store communications for new Japanese and Korean fusion bakery SOBORO.
The brainchild of the Wasabi eatery chain creator, Dong Hyum Kim, Soboro is a new Asian bakery in Cambridge, offering specialty teas and coffees alongside freshly baked bread, Asian pastries as well as well-known British favourites.
Soboro presents itself as a healthy alternative to many high street food destinations as the food is fresh, handmade and baked on the premises.
The Soboro Bakery brand story mirrors its owner by reflecting Mr Kim's life journey. Mr Kim was born in Korea, learned his trade in Japan and now lives in Europe.
The team at Parker Williams kept true to the Japanese and Korean design cues while endeavouring to reflect the quality and freshness of the offer.
Traditional Japanese proverbs or kotowaja, such as, "Ten men, Ten Colours." Soboro then modernises this with a sign off 'Be Yourself'- which appear on the website and in the store, whilst the packaging remains clean and simple with subtle eastern influences.
Head of Marketing at Soboro, Anthony Eadon, commented "Parker Williams has really understood our brief. We wanted to emphasise the unique offering of Japanese and Korean fusion with thought and personality. The use of proverbs with sensitive and stylish packaging and instore communications, has helped establish a distinctive and innovative brand identity which reflects our ethos."
Jo Saker, Creative Director at Parker Williams added, "It was wonderful to work on Soboro. The brief was to work with this strong brand and create exciting elements to bring the character and story of the brand to the forefront. Our brand design takes the customer on an immersive journey from pack through to in-store communications reflecting the unique brand proposition represented by Soboro's founder, Mr Kim.
More info: