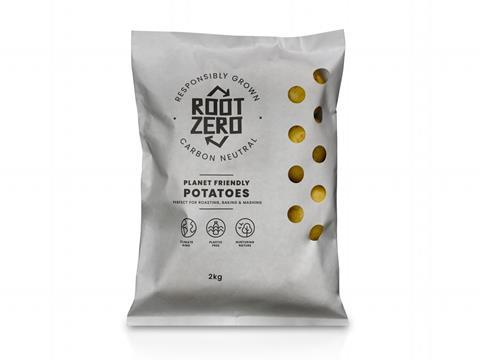 Root Zero has launched what it says is the UK's 'first' carbon neutral potatoes with paper bag packaging, which will be sold in 200 Co-Op stores across the UK.
The potatoes are grown in Pembrokeshire by Puffin Produce and packed in "plastic-free paper bags", which Root Zero claims will prevent more than five and a half tonnes of plastic arriving on supermarket shelves.
In addition, the packaging apparently uses innovations in water-based inks and adhesive technology to ensure it is recyclable and can be reprocessed back into high-quality paper. It can also be used to store other vegetables and is home-compostable, according to the company.
Root Zero collaborated with Van der Windt Packaging on the potato packaging, which uses the latter's cartoPaper. This is allegedly fully recyclable and biodegradable, as well as having a high calorie content that makes it suitable for energy generation uses.
The packaging also features tips for customers on cooking potatoes with skins, alongside other methods to reduce food waste, as part of Root Zero's commitment to raising awareness of the link between food waste and climate change.
Root Zero also worked with certification body Control Union to earn the Plastic Free standard for its potato packaging.
Federica Cionci, who leads the Plastic Free scheme at Control Union, says: "Plastic pollution causes devastating loss of biodiversity, harms human and animal health, and costs the global economy nearly £2 trillion per year. Yet the production of plastic continues to increase.
"The Plastic Free Certification from A Plastic Planet is a simple but robust scheme to give both businesses and consumers reassurance that products or packaging are indeed 100% plastic free.
"The innovative products used in the Root Zero packaging, including inks and adhesive as well as the cartoPaper itself, show that moving away from plastic packaging is becoming a more and more realistic option for businesses, and we congratulate Puffin Produce on the positive example they are setting for other producers and retailers."
Root Zero adds that it will continue to invest in carbon offsetting projects to neutralise carbon emissions that are "currently unavoidable". For example, the company will begin generating its own energy by installing solar panels at its production sites, while also using fuel-efficient tractors and electric cars for transporting its products.
This initiative by Root Zero aims to address emissions across the entire supply chain, including with its partners. Puffin Produce has set a target to reduce the carbon intensity of Root Zero potatoes by 51%, and its total operation emissions by 46%, by 2030.
Root Zero joins several other initiatives by companies to reduce plastic waste and carbon footprints in the food industry. Partnering with SILBO, Mondi developed a paper-based, compostable bag with a bio-based coating for potatoes packaged in Ireland, Poland, France, and Germany. In Ireland, Tesco also unveiled a recyclable, paper-based packaging that uses FSC accredited material for its own-brand potatoes.
With trials beginning in 200 Co-Op stores, Root Zero is expected to announce further supermarket availability in the coming months.