In a world heading towards climate crisis, Packaging Europe's Tim Sykes calls for a radical reframing of the sustainability agenda.
The scale to which humans have transformed and monopolized our planet is widely unappreciated. A shocking but under-reported biomass census conducted by the Weizmann Institute of Science in Israel found that just 4% of biomass of mammals on earth is wild animals. The remainder is made up by homo sapiens (36%) and our livestock (a staggering 60%). Similarly, 70% of bird biomass consists of chickens and other poultry; 30% is wild birds. The story of the Anthropocene – the age of humans – is a history of natural destruction. So far we've eliminated 83% of wild mammal biomass and 50% of plant biomass. We haven't finished.
Industrial civilization has accelerated this usurpation of the natural world, bringing a further environmental impact in the form of global warming. Those who engage with scientific understanding of reality understand that we are engaged in a struggle to avert a climate catastrophe. The Paris Agreement sought to mitigate the effects of a warming climate by aiming to limit the temperature rise to 1.5 degrees. It involved accepting the inevitability of severe environmental impacts but taking drastic action to avoid a more existentially threatening catalogue of consequences – melting ice caps, rising sea levels, increased drought, flooding, crop failures and habitat loss, and population displacement. This goal requires a 45% cut in carbon emissions by 2030 and zero emissions by 2050.
This in itself was a daunting task in the face of a growing global middle class and nearly 200 countries attempting to balance medium-term industrial transformation against short-term economic and political pressures. Since then a swathe of governments have been elected that are overtly hostile to the aims of the Paris Agreement. In 2019 Brazil's newly elected president Jair Bolsonaro promised to strip the Amazon rainforest of its legal protections, opening the way to an upsurge in logging that would make dangerous levels of climate change almost inevitable. In November the Trump administration deposited notification of its withdrawal from the Paris Agreement.
Is that it? Is it time to give up on the 1.5 degree ceiling, accept the environmental and human costs will be catastrophic, and switch attention to survival on a dying planet? No, I propose that each of us has a personal responsibility, and the organizations we belong to have a corporate duty, to show leadership while parts of the political class fail us.
Polar bears and turtles
What does this mean for packaged goods? For our own industry leadership in the first place means ensuring we put climate impacts at the forefront of our behaviour and our communications. To date, a number of the leading global brand owners and retailers have published noteworthy carbon policies, though as a whole the CPG giants aren't as concrete in their commitments and their climate route-maps as in their respective plastic waste pledges. Decarbonization must rise to the top of our agenda if FMCG is to play its part in driving change.
If the first step is to define priorities, the next is substantive engagement with the core challenges. Climate crisis demands that we ask questions of our fundamental packaging strategies, and it must be central to how as an industry we mediate discussions on how to integrate CPG into a circular economy. This does not mean taking climate imperatives as an excuse to neglect packaging waste obligations. On the other hand, we will not be forgiven if in responding to heartbreaking images of entangled sea turtles we delay radical decarbonization – or worse, switch to more carbon intensive strategies or adopt recyclable packaging that results in increased food waste.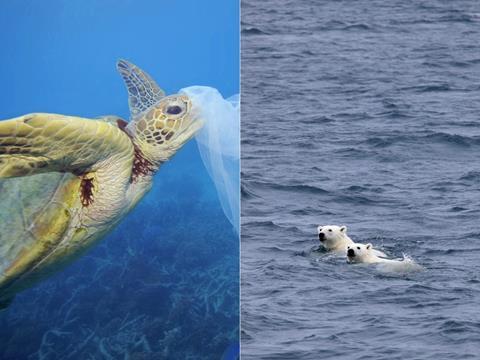 Packaging isn't visible in our pictures of polar bears struggling to exist as sea ice recedes, or as warming oceans destroy marine and terrestrial ecosystems, but we must keep these pictures in mind as we formulate new, low-carbon and circular packaging systems. Whether this involves using plastics, renewables or infinitely recyclable materials, and where it's appropriate to recycle single-use packaging or reuse containers must be driven empirically.
Another core challenge is decarbonizing while simultaneously adapting to a transformation of consumption habits. Analysis released at the World Economic Forum last month projects that urban last-mile delivery emissions will increase by more than 36% by 2030 in the top 100 cities globally due to the e-commerce boom. This isn't only a question of transportation. Cube efficiency and product protection paradigms honed over decades based on a bricks-and-mortar retail model are being reformulated in response to the shift to direct-to-consumer delivery. Getting these systems and solutions right will directly impact on the carbon footprint of future consumption.
Clarity and transparency
Above all, this generational task requires honesty. This begins with clarity about our objectives and transparency in our actions. It demands science-based decisions and specifications. Crucially, it means an end to promoting solutions on the basis LCAs that are produced by independent consultancies with rigorous methodology, only relying on 'friendly' assumptions about all those variables that can drastically impact on the findings. If we could ask for one contribution from the regulatory community, investment and standardization around truly independent benchmarking would be at the top of my wish list.
We'll also need the kind of granular transparency that some of the global industry leaders and initiatives such as New Plastics Economy are now bringing to circular economy pledges. As a first step, let's be clear about definitions. When a business commits to a carbon emissions reduction, is it referring to internal production efficiencies or absolute reductions? Is this commitment set against the 2010 baseline, which equates to a 58% reduction on 2015 levels?
An altogether more uncomfortable question is whether in some cases the packaged goods we consume and sell simply aren't very good for the biosphere. Is packaging justified on the basis that it minimizes the environmental impacts of an inherently unsustainable product? For instance, the Intergovernmental Panel on Climate Change reported last year that reducing consumption of meat will be a crucial pillar in reducing carbon emissions. It's axiomatic that it's better to use a small amount of resource efficient packaging to prevent wastage of an energy-intensive product. But do we need that product in the first place? Do we eat too much meat? Do we eat too much produce that is out of season in our planetary hemisphere? These are questions we can ignore today but which angry consumers will be asking their favourite brands and retailers tomorrow.
Collective responsibility
We have ten years to honour the Paris Agreement commitments, and we can only drive progress by mobilizing the same collaborative will that has been demonstrated in the face of the packaging waste crisis.
For our part, in 2020 Packaging Europe will seek to push the climate crisis to the top of the packaging agenda. This will not only frame our year-round reporting and commentary, but also our special green initiatives. The practical implications of achieving decarbonization and a circular economy will be the focus of discussions as the leaders of FMCG, packaging, recycling and regulation come together at the Sustainable Packaging Summit in Lisbon (European Green Capital 2020). I also hope to see outstanding examples of climate leadership in submissions to this year's Sustainability Awards, whose winners will be revealed at the Summit.
Now is the time to engage, organize and act.
Join us at the Sustainable Packaging Summit, Lisbon, 15-16 October: packagingSummit.earth
Sustainability Awards 2020 submissions are now open, until 6th April: theSustainabilityAwards.com