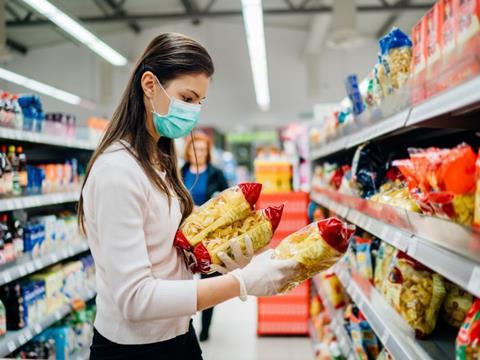 In September, the German Packaging Institute dvi hosted its first 'dialogue week', described as a digital space for the exchange of knowledge, thoughts and visions, focusing on the big picture. Elisabeth Skoda looks back at individual sessions and shines a spotlight on some of the key talking points.
It is commonly acknowledged that the Covid-19 pandemic has accelerated existing trends. Is this also the case for packaging? Has the pandemic changed consumer attitudes and expectations of from packaging? On the first day of dvi's dialogue week, moderator Claudia Fasse, managing director at Fasse+Bieger, kicked off the discussion with this question.
As the resulting expert discussion showed, the answer was a clear 'yes and no'. It's a yes when it comes to the basic perception of packaging, but no, when the focus is on the fundamental jobs packaging has to do tasks and the challenges surrounding it.
Perceptions of packaging and plastics
Diana Uschkoreit, managing director at bellandVision GmbH, noted that Covid-19 has in general led customers to think more about the topic of packaging.
"Consumers think about the topic in a more differentiated manner, and have a clearer view of the functionality and advantages of packaging, for example when it comes to protecting food and other products and make them keep fresh for longer. Packaging is no longer considered 'useless'."
Stefan Dierks, sustainability strategy director at Melitta Group Management GmbH & Co. KG agreed and reported changed consumer perceptions, especially with regards to plastics.
"Whereas before, there may have been black and white thinking, and negative thoughts were at the forefront, but plastics' infection protection potential led to a more nuanced way of looking at the material."
Klaus Müller, head of consumer rights association Verbraucherzentrale Bundesverband emphasised that 'the consumer' as such does not actually exist, and neither does 'evil plastic'.
"What does exist is problems such as too much plastic waste in the environment. However, I don't believe that Covid-19 will cause deep changes there, these will happen more in industries such as aviation and tourism. It's been scientifically proven that packaging and food don't really play a role in passing on the virus, so there is no COVID-packaging problem."
Sustainability, the circular economy and recyclate
Klaus Müller pointed out that the use of packaging becomes a dilemma where an excess of it is being used. It is key to avoid excess packaging as consumers are happiest with packaging that is scaled down to what is necessary, that is reusable or can be recycled after use. The easier it is to sort or dispose of packaging waste, the better consumers will accept the solution, and it will work better. What material is used is of secondary importance to consumers.Stefan Dierks also reported a changed awareness of sustainability and the circular economy, which he traces back to the pandemic but also to other factors, such as climate change becoming more noticeable.
"More and more people are becoming aware of the fact that we cannot just go on as we have done. On the other hand, many people do not want to change their habits. Therefore it's important to have a constructive dialogue. After all, it's not possible to solve complex problems with simple solutions. An unblinkered discussion is key, not ruling out plastics packaging. We should ask ourselves the question: Where do plastics make sense from an ecological point of view? Where can we provide simpler packaging without losing functionality?"
Diana Uschkoreit pointed out that it's difficult to create sustainable packaging and use recyclate when there is a noticeable gap between what consumers say they want and what they actually buy.
"Sustainable packaging generally isn't cheaper than conventional solutions, and often the price is the only deciding factor when it comes to purchase decisions. Therefore we need more information and motivation for consumers, and it would also fall on politics to create incentives."
Klaus Müller also emphasised the importance of incentives and the role of politics.
"Politics should step in when a path that is shown to be the right one, such as the use of recyclate, does not work well economically. For example, the low price of crude oil as a base material for virgin plastics is lower than the price for plastics recyclate. If at the coffee shop or bakery I have a choice between a relatively expensive reusable cup or an extremely cheap single use cup, I'm less likely to choose the reusable option, so additional financial incentives should be created. The more sustainable solution shouldn't be more expensive."
He advocated the creation of more reusable systems and to better inform consumers.
"Separating and recycling makes sense, but too many people still believe that everything is simply incinerated anyway."
On the other hand, solutions should easily fit into peoples' lives. "Does the frozen spinach packaging go with paper recycling or the general recycling? What about the bakery paper bag with a flexible plastics window? The easier, more readily available and simple solutions are, the more they will be used. But the price shouldn't be counteracting sustainability efforts."
On the subject of recyclate, Diana Uschkoreit pointed out that currently there is still a lack of demand.
"What's the point of recycling plastics, if you're then stuck with a mountain of recyclate?"
Klaus Müller quoted a survey by Verbraucherzentrale Bundesverband that said that up to 70% of consumers would like more recyclate in their packaging.
All the panel agreed that developments should not lead to a situation where people do not use recyclable plastics, but instead choose plastic free, non recyclable solutions.