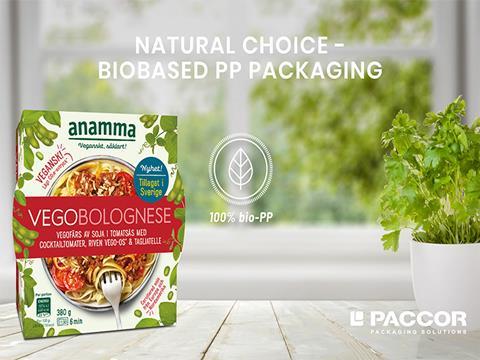 Packaging solutions supplier PACCOR announces it will produce biobased polypropylene (Bio-PP) products for Orkla, a leading supplier of branded customer goods to the grocery, specialised retail, pharmacy, and bakery sectors in the Nordic region.
According to the company, the material is made from renewable resources and follows the ISCC certified mass balance principle. This is a chemical industry standard for tracing sustainability characteristics of circular and bio-based materials in the value chain.
The company says it started testing with the Bio-PP material in partnership with Orkla in its Finnish production site in Hämeenlinna. It adds that the PACCOR production site in Ravensburg, Germany, also has ISCC certification.
Following testing, the company adds that it has manufactured a recyclable transparent bowl for frozen ready means from Bio-PP.
Andreas Schütte, CEO of PACCOR, comments: "We are pleased that we are now able to switch production from virgin fossil to biobased PP.
"PACCOR is an industry frontrunner in sustainability. Our goal is to accelerate circularity and bioeconomy in plastics."
The company claims that it is one of the first rigid plastic manufacturers to produce Bio-PP products.
This represents PACCOR's continuing innovations in sustainable solutions for packaging across applications. In 2019, PACCOR launched its lighter bottle closures which reportedly use 13% less plastic material than previous versions.
Elna Hallgard, Development Manager Packaging at Orkla, adds: "Our collaboration with PACCOR is a good example of how a pioneering material can be implemented in food applications and can help to meet consumer demand for more sustainable products."
PACCOR says it is looking to offer its new biocomposite to business partners around the world, following a successful pilot programme.
It concludes that the new innovation aligns with PACCOR's CARE strategy to help improve and accelerate decarbonisation efforts along the value chain.