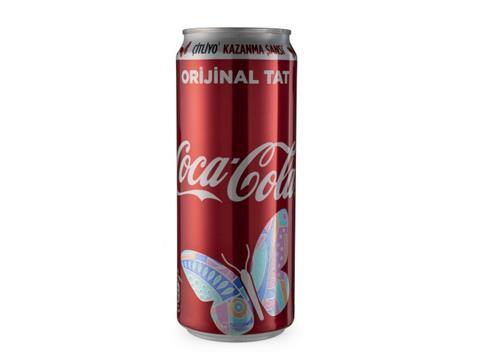 Coca-Cola Turkey has launched its summer promotional range, making unprecedented use of thermochromic inks to add colour, function and fun to ten new aluminium beverage can designs with the help of Crown.
Historically, one or two thermochromic inks have been combined to communicate temperature changes. For the first time, Coca-Cola Turkey is using thermochromic ink technology as a true decorative tool, making it an integral part of how the can looks. Four separate inks have been used to create bright designs that stand out when the cans are chilled and the drinks ready for consumption.
The designs featured on Coke Red and Coke Zero beverage cans all have summer themes, ranging from ice cubes and palm trees to sandals and sailing boats. The images are colourless at ambient temperature and change to colourful patterns when the drink is chilled and ready for consumption.
"Crown worked with dedication to facilitate the complex printing process of the four inks, a novelty in our line of work," said Matt Twiss, Marketing & Business Development Director at Crown Bevcan Europe & Middle East. "While we have used thermochromic ink technology for many commercial applications, the Coca-Cola campaign highlights its potential as a decorative tool, conveying a message of freshness and fun in an aesthetically pleasing and original way. The inks also encourage consumers to interact with the brand at the point of sale and during consumption."
Coca-Cola launched the summer campaign with a video featuring Turkish movie stars taking a refreshing dip in the Mediterranean and enjoying a Coke.
The cans are produced at Crown's Osmaniye plant, in central southern Turkey, a state-of-the-art production facility with the capacity to produce approximately two billion cans per year. A total of 70 million units will be produced in 2018 for this campaign alone, with a large number already in the retail supply chain.