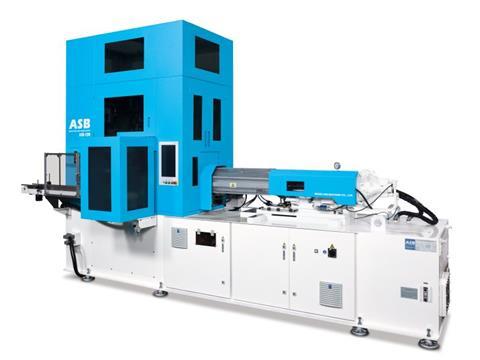 Nissei ASB Machine Co., Ltd. is exhibiting att the K 2019 exhibition (Hall 14 / B38), in Düsseldorf, Germany. At the show, the company is showing its recently introduced "Zero Coolong molding process.
Zero Cooling - Patented Molding Technology
The major sectors of the PET container market that utilize one-step injection stretch blow molding process are cosmetics, personal care, pharmaceutical, household and general food packaging, etc. where containers are more commonly designed for market appeal and brand quality, resulting in preform design that up to now has been a compromise between container quality and molding efficiency.
First announced in 2018, Zero Cooling - ASB's advance in preform cooling technology - suits the needs of these industries as it enables increased product quality at significantly shorter molding cycles than seen previously, the company says.
Taking advantage of ASB's proprietary 4-station, 1-step molding method, virtually all the required preform cooling is now shifted away from the injection station and into the second, conditioning station to reduce injection cycle times.
The Zero Cooling molding method enables these short cycle times to be achieved while avoiding the need for thin, compromised design preforms that are susceptible to several quality related problems, most notably the undesirable "fisheye", "body ring" and "orange peel".Now, with the preform designer able to freely focus on a shorter preform design with a thicker wall section that optimizes stretch ratios, the result is "vastly improved quality as well as increased productivity."
Actual results from typical Zero Cooling molds have shown 15% or greater increase in stiffness and topload strength, improved control of material distribution and an average of 1.5 times productivity increases while improving on visual quality. Furthermore, since the container strength has now been improved by better orientation, more scope is available to apply additional light-weighting to the container's specification.
The advanced cooling method also enables the molding of heavyweight premium cosmetic containers in dramatically shortened cycle times exhibiting no haziness even when using standard, lower cost PET grades, rather than the higher priced specialized, low-crystallization grades that are normally required. All this results in perfect visual quality while saving cost and boosting productivity by 2-3 times over conventional molding of these glass-like, premium designs.