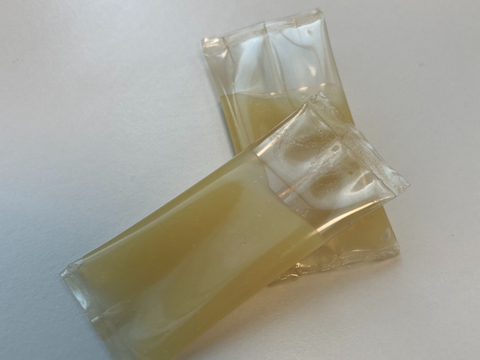 ELEMIS and Xampla seek to launch biodegradable sampling sachets for skincare products by replacing traditional plastics with biofilm made using leftover waste from ELEMIS' plant crops.
While sachets have often been used in cosmetic applications, the companies identify a gap in the market for plastic-free alternatives to traditional multilayer barrier sachets.
Xampla's Morro materials are already made using plant feedstocks; these will now be tested to evaluate their market capabilities when applied to ELEMIS products. The collaboration is expected to convert plant waste from the skincare brand's product ingredients into heat-sealable films – thus upcycling waste and, in the long term, providing a replacement for single-use sample sachets.
On a wider scale, it hopes to contribute towards sustainability-minded progress in the beauty industry and meet consumer expectations for packaging and products with low environmental impact.
"ELEMIS continues to innovate and investigate new ideas, and partners wherever possible with organizations that can help move the dial on key environmental or social challenges," said Oriele Frank, chief product and sustainability officer at ELEMIS. "What we find so exciting about this project with Morro is how utilizing waste from left-over plant material can potentially tackle one of our key packaging dilemmas too.
"This project further reflects our commitment to finding new opportunities to have a positive impact on planet and people throughout our value chain."
Pete Hutton, chairman at Xampla, added: "Our collaboration with ELEMIS unlocks significant potential for the cosmetics industry, where waste materials are transformed into innovative solutions to replace plastic sachets. We are proud to have pioneered our breakthrough material using plant feedstocks and we are looking forward to developing this research further with ELEMIS."
PlasticFree.com has facilitated the partnership, which is in turn supported by a grant co-funded by Biotechnology and Biological Sciences Research Council (BBSRC), Engineering & Physical Sciences Research Council (EPSRC), and Innovate UK.
Sian Sutherland, Co-Founder of A Plastic Planet, concluded: "We are proud to have united two forward-looking British companies that, together, can steer us away from plastic packaging with entirely new materials, created from discarded waste. This is the kind of inventive and collaborative approach that is required to create change in the industry and to facilitate the next generation of packaging."
Morro materials were developed based on 15 years of research at the University of Cambridge. Claiming to be free of plastics and chemical modifications, they are thought to break down in the natural environment with food waste.
A consumer survey from Xampla recently described plastic as a 'material of the past' and indicated a preference for home or industrially compostable alternatives.
The development comes after a long-term agreement between Holmen Iggesund and Yangi was announced late last year. Its goal is to produce bio-based and renewable materials for refills, inserts, and testers in the beauty and cosmetics industry.
Additionally, MACK is using Notpla's plant-based, water-soluble film in its refill cleaning product line – a reported 'world-first' for the home and laundry care market.
If you liked this article, you might also enjoy:
The L'Oréal approach to packaging sustainability
What steps is Apple taking to make its packaging more sustainable?
How did Brazil achieve its 100% aluminium can recycling rate – and can it be replicated in the EU?
Experts have their say on the EU's Packaging and Packaging Waste Directive revisions